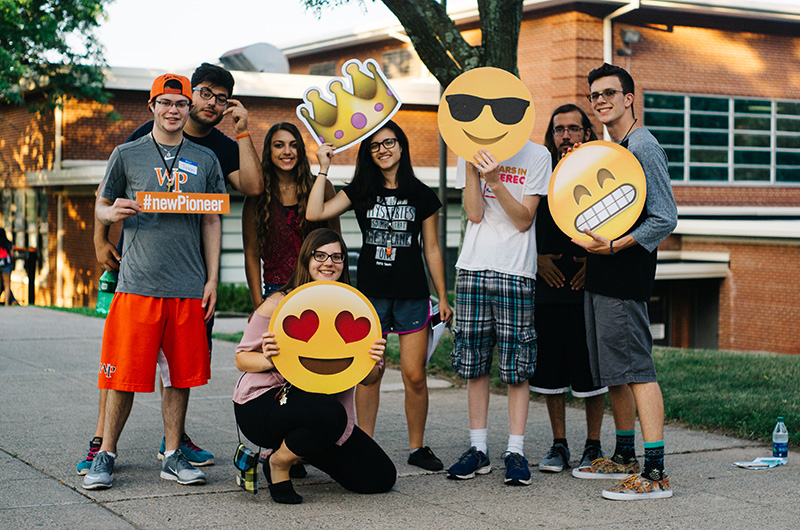 First-year students must choose one of the following orientation dates:
Wednesday, July 12, 2017
Wednesday, July 26, 2017
Wednesday, August 9, 2017
Planned Activities
University Life presentation
Student-to-student dialogue on the different aspects of campus life
Discussion of Class Schedules
Financial Aid/ Tuition Payment Session
University Services Fair
Panels on resident student and commuter student topics
Overnight Component
First-year students may choose to stay on campus overnight, as part their Orientation program. The evening events include activities such as outdoor/indoor volleyball, basketball, ping pong, music and dancing, Karaoke, and much more!
*Important: students staying overnight must pay a $30, per-person, nonrefundable fee when registering for Orientation. This fee will be applied to your student account,
A Commitment to Serve
We are asking that students and parents bring along a non-perishable item or two to help us support local food pantries. Please do not pack the items away in a suitcase or overnight bag. Bring them to Orientation check-in at the Recreation Center, as we will be collecting them there.
Orientation Checklist
Complete the RSVP form as soon as possible.
Wear casual clothes, comfortable walking shoes, prepare for all weather (light jacket and umbrella, etc.)
Bring along a non-perishable item or two for our food pantry collection
Be ready and open to meet new people!
For students staying overnight:
Bring a pillow, blanket and towels
Be prepared to play, meet others and have fun!
Arrival/Check-In
When you arrive on campus, proceed to the Recreation Center which is located in Lot 6. Ample parking is available in this lot. Check-in starts at 8:00 a.m. in the Recreation Center Arena, and programs are scheduled through 5:30 p.m. Students staying overnight: please bring your overnight bag with you to check-in at the Recreation Center. Additional events will be hosted that evening.
Meals
Orientation includes a continental breakfast, lunch and reception. Those spending the night will be provided other snacks and food options during the evening hours.
Questions
If you have any further questions regarding Orientation, please visit the frequently asked questions section or e-mail us at wpu-orientation@wpunj.edu, or call our Orientation Hotline at 973-720-6206, where you can leave messages if needed. During the summer months, the University is closed on Fridays. Hence, your best way to reach us would be through e-mail.