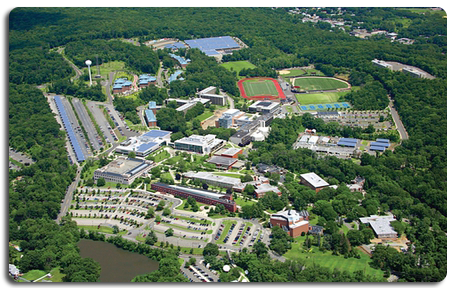 At William Paterson University, we are proud of our role as a leading institution of public higher education in New Jersey, and strive to make an impact in our local community, our region, and our state.
As one of the largest institutions in the state, William Paterson has a significant impact on the overall economy of the state and the region. With an annual budget of nearly $225 million and nearly 3,000 full- and part-time employees, the University produces an additional estimated $500 million economic impact throughout the state.
William Paterson enriches the communities in which it resides--Wayne, Haledon, and North Haledon--and boosts the local economy through its purchases of goods and services and through the patronage of its students, faculty, and staff who frequent local restaurants, stores, and other businesses. The University also serves as a cultural center in our region, offering conferences, theatre, music concerts, art exhibits, athletic events, family-friendly-entertainment, and the Distinguished Lecturer Series, which has brought important speakers to campus for nearly 40 years.
As one of the largest degree-granting institutions in New Jersey, the University is preparing New Jersey's workforce for today and tomorrow. More than 56,000 of the University's alumni have remained in New Jersey; our students, employees, and alumni hail from every county.
The University is committed to enhancing the development of New Jersey's workforce through its Small Business Development Center (SBDC), located in downtown Paterson. The SBDC provides technical assistance and services to small business owners and entrepreneurs in Passaic County, fostering the expansion of contemporary small business success in today's competitive and increasingly diverse and technologically driven environment. In addition, the University provides numerous training initiatives through its Center for Continuing and Professional Education, many of which are funded by grants from the New Jersey Labor and Workforce Development (NJLWD) Customized Training Program.
William Paterson's dedication to active citizenship—one of the University's core values—is manifested in the commitment of students, faculty, and staff to numerous volunteer and service activities, ranging from building homes for local families as volunteers for Habitat for Humanity to participation in service projects for New Jersey Cares. The University is a founding member of the civic engagement organization New Jersey Campus Compact, and a member of the American Democracy Project, a multi-campus initiative that encourages civic activity.
We continue our long-standing relationship with Paterson, the University's original home. William Paterson professors and administrators are actively involved in helping develop the general management plan for the Great Falls National Historic Park there.
In addition to the hundreds of William Paterson student teachers working in local school districts, our students and faculty are active in a range of programs and services, including