University Offers Expertise to New National Park in Paterson
A new plan for the Paterson Great Falls National Historical Park is being developed with input from professors and administrators from William Paterson University.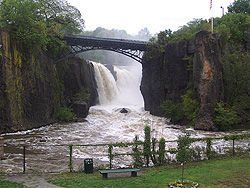 Paterson Great Falls National Historical Park
A natural resource that has long graced the region with its beauty and power, the waterfalls in Paterson were designated as the Paterson Great Falls National Historical Park on November 7, 2011 by The National Park Service, making the park the newest unit in the system.
Now that it's official, a general management plan for the approximately eighty-acre site is being developed with input from William Paterson professors and administrators. University President Kathleen Waldron, serves on the Board of Trustees of the Hamilton Partnership for Paterson, a non-profit organization that helped to launch the national park. "We are actively involved in the development of the programming in the park," says Stephen Hahn, associate provost and interim dean of the College of the Arts and Communication, who acts as the University's point person and coordinator of William Paterson's efforts for the site. "We are pleased to have been asked by the Advisory Committee to provide input into the process."
Hahn convened a meeting on February 29 attended by faculty and staff from many departments and colleges on campus including art, business, education, music, recreational services, geography and urban studies, history, and biology.
Participants detailed their interests in programming which included investigating the immigration and contributions of people from diverse ethnic and national backgrounds, initiating arts projects related to politics, comparing the economic history of early Paterson to other urban and industrial sites, explaining the history of trade and production as it relates to the city, curating collections and artifacts, and developing music programs, among numerous other suggestions and ideas.
The next open public meeting will be held on April 12 at the Paterson Museum from 2-5 p.m.
03/22/12