Honors Courses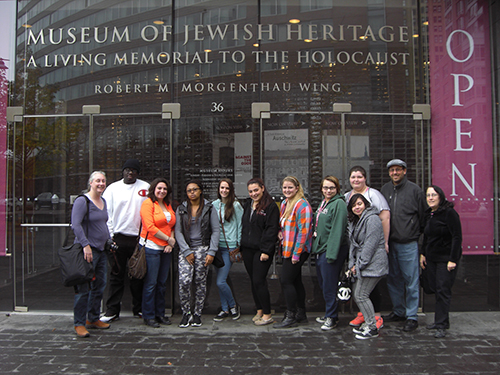 Honors Sections of University Core Curriculum Courses
Every semester, the Honors College offers Honors sections of several University Core Curriculum (UCC) courses. Honors sections are more intense than traditional sections, they rely more upon discussion, and they are capped at 20 students. Before priority registration begins in the fall and spring semester, the Honors College Office produces a list of all Honors sections of UCC courses and shares it with students via e-mail. The list can also be found on the Honors College webpage.
Honors courses are available by permit only. To request a permit, email Honors at honors@wpunj.edu.
Registration Process: For more information about permits and the registration process click here, here, and here
---
Fall 2017 – Honors UCC Courses
Courses are available by permit only. Please send an email to honors@wpunj.edu
to request a permit.
UCC 1
KNES 1000-73 - Active Lifestyles for Health – MW, 9:30-10:45 - Dr. Gordon Schmidt - CRN # 40774
The aim of this course is to support the adoption of a physically active lifestyle conducive to health. The focus is on developing an understanding of the dynamic relationship between personal health and physical activity. Selected health issues are investigated in conjunction with active student participation in corresponding lifetime physical activities. Students must earn a grade of C- or better in KNES 1200 in order to continue taking courses in the Exercise Science, Physical Education, or Sport Management majors.
Credits: 3.0
UCC 2B
ENG 1100-39 - College Writing – MW, 3:30-4:45 - Dr. Philip Cioffari - CRN # 40372
A workshop course in which students develop pieces of writing, taking them through various stages of planning and revision. Students share their writing with the instructor and their peers, get feedback on drafts, and consider this feedback as they progress through the writing process. This course develops students' writing competency on the college level.
Credits: 3.0
UCC 3C
PSY 1100-08 - General Psychology – MW, 9:30-10:45 – Jason Clarke - CRN # 42926
This course surveys the chief theories, principles, and methodologies of psychology with special emphasis on their relations to human behavior. The biological foundations of behavior, sensory processes, learning, perception, memory, emotion, motivation, personality, and the social bases of behavior and behavior pathology are examined to establish the foundations for advanced study in psychology. Current research findings are included wherever applicable.
Credits: 3.0
UCC 3D
BIO 1630-09 - General Biology I – M, 11:00 – 1:45 – Faculty TBA - (Lab) TR, 2:00 - 3:15 – Carey Waldburger - CRN # 41925
Provides a background in biological principles. Similarities and differences between living organisms, both plant and animal, are discussed. Subcellular and cellular structure and function, cellular respiration, photosynthesis, genetics, DNA structure, replication, transcription, and protein synthesis. Open to biology/biotechnology majors. There is a BIO lab fee.
Credits: 4.0
World Languages Requirement
SPAN 1060-70 - Intensive Basic Spanish 1 & 2 – TR, 11-12:15 - Dr. Esther Martinez - CRN # 42115
This course introduces the student to the basic elements of the Spanish language as used in contemporary Spanish conversation in everyday situations. The student will also be exposed to basic forms of the written language and carefully graded readings aimed at widening the students' working vocabulary.
Credits: 6.0
UCC 4
ANTH 2020-08 - Diversity & Equity in Schools – TR, 11-12:15 - Dr. Maria Villar - CRN # 42498
Schools are central to the socialization of youngsters and to the formation and maintenance of modern nation-states. American schools transmit core values and knowledge and support a meritocracy where social mobility seems the outcome of talent and effort. While offering freedom and opportunity, they reproduce social structures and perpetuate systems of class, gender, and race inequality. This course critically analyzes the role that schools play in the cultural production of the "educated" person. It identifies links between school practices and the community, the state, and the economy, which help explain the disproportionate failure of disadvantaged groups. The course challenges future teachers to think about schools as sites of intense cultural politics and to consider the effects of history and power on educational processes.
Credits: 3.0
WGS 2250-01 – Race, Gender, and Social Justice –TR, 3:30 – 4:45 – Dr. Carole Sheffield - CRN: 43122
In common with standard sections, this course will examine racism, sexism, heterosexism, and classism looking at current laws, historical documents, academic articles, films, and hearing the personal experiences of other students. Engaging the topics, students will read critically, write on complex topics and work at concept development. Such skill development assignments will prepare students for an intensive undergraduate program regardless of major.
UCC 5
SOC 2220-01 – Pub. Sociology & Civ. Engagement – TR, 9:30-10:45 - Dr. Kathleen Korgen - CRN # 42851
This is a service-learning course that provides students the opportunity to apply sociological concepts and theories to their (minimum of 20 hours) work at Oasis, a non-profit haven for women and children in Paterson, New Jersey. It also requires students to utilize sociological concepts, theories, and methodologies in a semester-long group civic engagement project. Students must transport themselves to and from Oasis.
Credits: 3.0
Social Science Elective
PSY 2110-04 - Lifespan Development – TR, 8:00-9:15 - Dr. Virginia Kraus - CRN # 42034
This course provides a foundation for understanding human development from conception through late adulthood and death. It reviews the theories and research on the biological, cognitive, emotional, and social aspects of human development. The biological & socio-cultural interactions with human development (e.g. race, class, gender & culture) are examined as well. PREREQUISITES: PSY 1100 General Psychology
Credits: 3.0