Honors Student Research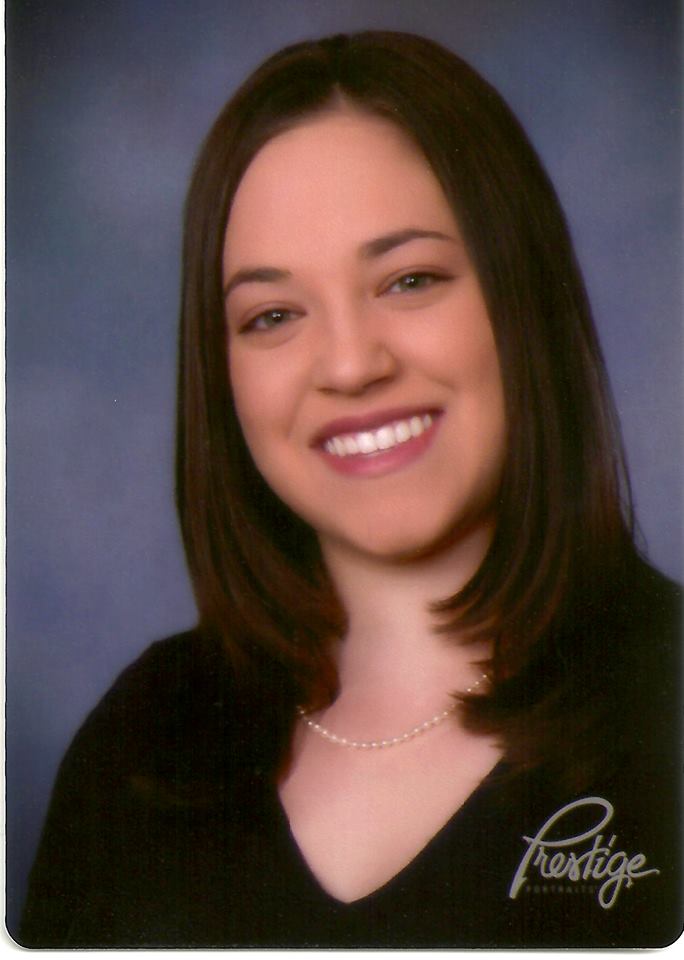 Samantha DiMeglio
One of our 2016 graduates, Samantha DiMeglio, has made us proud by publishing her Cognitive Science Honors thesis in the Undergraduate Journal of Psychology.
In her thesis, Samantha proposes that the more 'Type A' a person is, the more they are likely to procrastinate, due to their perception of increased workload and stress levels. Her thesis is backed by two online surveys and two
mediation analyses.
To read Samantha's publication, search for DiMeglio, S. (2016). Type A personality and procrastination. The Undergraduate Journal of Psychology, 29, 52-62. Do not hesitate to give feedback on the Honors College social media platforms.
11th Annual Undergraduate Research Symposium 2017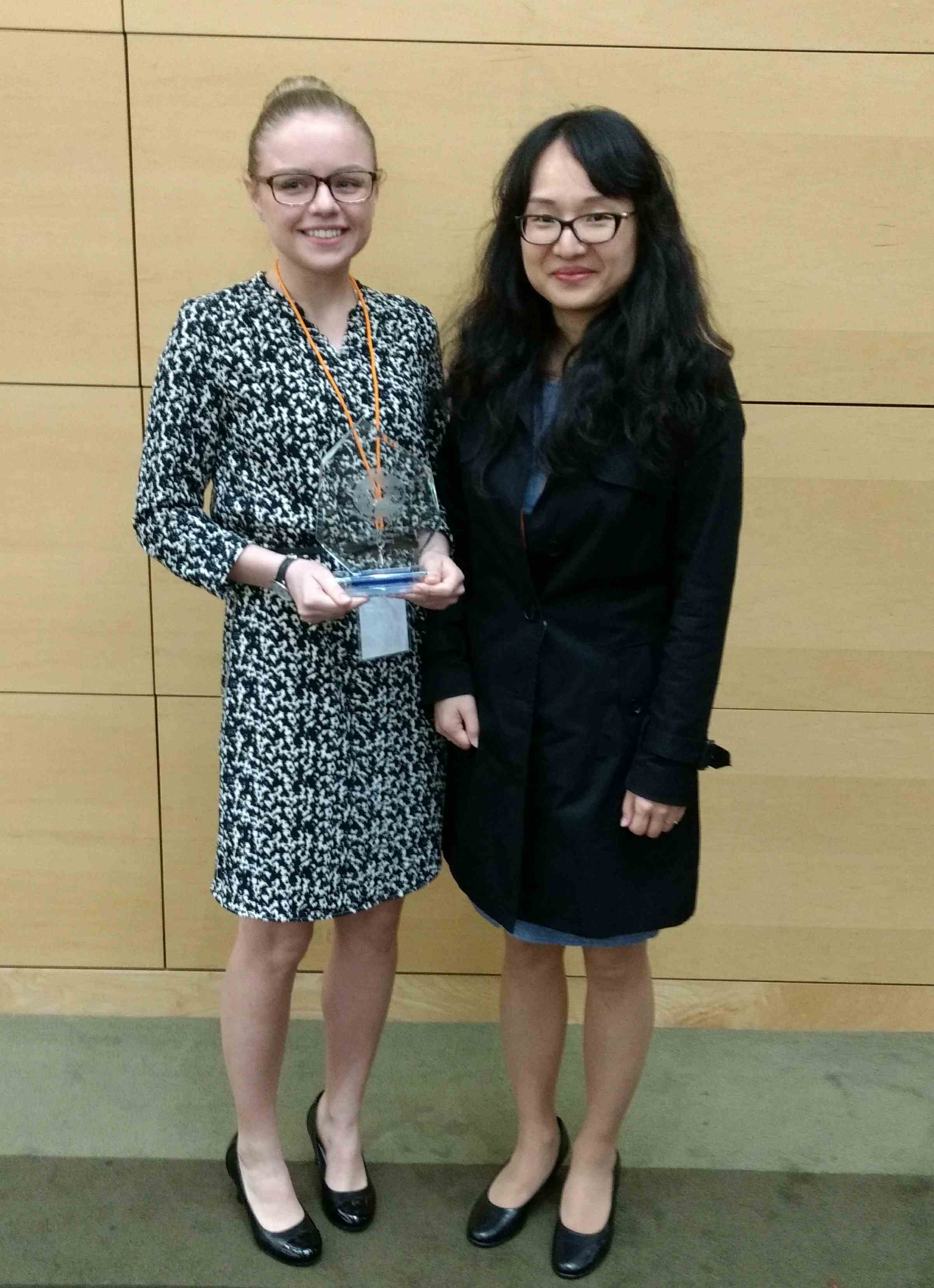 Jolanta Jedryzcka and Dr. Xing
The 11th edition of William Paterson University Undergraduate Research Symposium took place on April 22nd 2017 and was a memorable one for the Honors College and Jolanta Jedryzcka, who bagged first place in Biochemistry.
Over the last ten years, College of Science & Health at William Paterson University has provided a forum for undergraduates to present their original research to their peers and professors. This event provides students with essential research experience for a career in the sciences or science-related fields. The conference focuses on sharing and advancing new knowledge in the sciences that were created or discovered through collaborative faculty-student research.
Honors Week
Honors Week, held annually in April, showcases the work of the students who are completing one of the Honors College Tracks. The week consists of project presentations and a Banquet for graduating Honors students and their parents. Below are Honors Week Programs from previous years. Click on the links to review previous Honors Thesis projects.
2014 Honors Week Program
2013 Honors Week Program
2012 Honors Week Program
2011 Honors Week Program
2010 Honors Week Program
2009 Honors Week Program
2008 Honors Week Program
WPU Honors Students Present their Research at Conferences Across the Country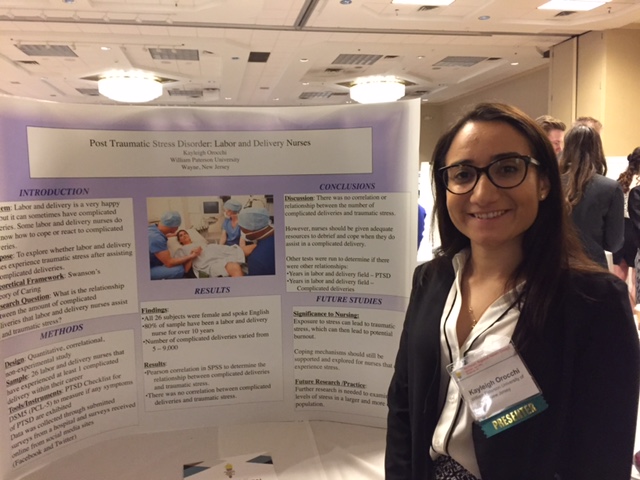 Kayleigh Orocchi at the 2017 NRHC Conference in Pittsburgh
Twenty William Paterson University Honors students have presented their research at three conferences this Spring 2017, in disciplines ranging from psychology, to communication disorders, to music.
The Eastern Psychological Association Conference in Boston, MA, took place from March 16 to 18; the National Council on Undergraduate Research took place at the University of Memphis in Memphis, TN from April 6 to 8; and the Northeast Regional Honors Conference in Pittsburgh, PA held from April 6 to 9.
"Faculty are emphasizing opportunities for all students to present at conferences, where they can participate in panels and poster sessions and obtain feedback from experts in their academic field," says Barbara Andrew, Director of the Honors College at William Paterson. "We have doubled the number of students presenting at the Northeast Regional Honors Conference from two years ago," reports Andrew.
"This year, seven William Paterson students will be presenting at the Eastern Psychological Association, an amazing increase from the one or two students who have participated in previous years" says Amy Learmonth, professor of psychology and director of the Cognitive Science Honors track. "I am very proud of them."
The Honors College projects are varied, ranging from research into PTSD (post-traumatic stress disorder) among labor and delivery nurses to whether modality matters in a comparison of comprehension on mobile screens versus on paper. In addition to the external conferences, the William Paterson Honors College students will present their research on campus during Explorations 2017, the University's expanded and enhanced series of programming in April that celebrates and highlights the depth and quality of research, scholarship, and creative expression.
Below is a list of all student participants, their hometowns, majors and research titles:
Eastern Psychological Association
Kaylalee Garcia of New Milford, Integrated Math and Science-Mathematics, "Misguided by Useless Information: Investigating the Illusion of Knowledge & Confidence"

Isabella Llopiz of Fort Lee, Psychology, "Does Drug Use Effect False Memory Susceptibility?"

Jennifer Haggis of River Edge, Psychology, "Fear of the Unknown"

Deanna Sumrein of Wayne, Psychology and Communication Disorders, "Differences between Nap and No Nap Preschool Children in Lexical Recall"
Abigail DeBel of Lincoln Park, Communication Disorders, "Does Modality Matter? Reading Comprehension on Mobile Screens and on Paper"

Katherine Stetser of Cherry Hill, Communication Disorders, "Perceptions of College Students Toward People Who Stutter"

Lily Fritsch of Medford, Communication Disorders, "Should I Keep Moving?"
National Council on Undergraduate Research
Timothy Malone of Mahwah, Music, Independent Track, "What Mozart is in the Mozart Effect?"
Northeast Regional Honors Conference
Lynda Amici of Beachwood, Nursing, "Alarm Fatigue in Adult Critical Care Settings"

Megan Baird of Rockaway, Independent Track, Mathematics, "From Student to Intern: An Overview of the Pharmaceutical Field"
Christopher Cela of Nutley, Nursing, "The Role of Stigma in NICU Nurses Perceptions of Caring for the NAS Mother Baby Dyad"

Savannah Crippen of Toms River, Psychology, Clinical and Neuropsychology Track "High Sensation Seeking and the effects of mindfulness meditation"

Amanda Egri of Iselin, Nursing, "The Effect of Nurse Fatigue on Patient Outcomes"

Karisa Foreman of Avenel, Social Sciences Track, Psychology, "Analysis of Self Help Internet Resources of Obsessive Compulsive Disorder"

Alissa Lianne Lopez of Cedar Grove, Independent Track, Communication - Public Relations and Journalism, "Frenemies: Bridging the divide between journalists and PR professionals"

Julia MacDonald of Highland Lakes, Biology, "Determining the Presence of Federally Threatened Bat Species, Myotis Septentrionalis, on High Mountain Park Preserve using Acoustic Monitoring"

Kayleigh Orocchi of New Milford, Nursing, "PTSD: Labor & Delivery Nurses"

Xanilyn Red of Metuchen, Nursing, "Burnout in the Nursing Profession"

Erin Roach of Clark, Nursing, "An analysis of nurses' experience performing cardiopulmonary resuscitation and their level of post code stress."

Sarah Wilmote of Jersey City, Nursing, "Perceived Depression Stigma and Treatment Seeking Behavior and Attitudes amongst Blacks and Whites"

Here's a look at some of the past conferences which have taken place in the past :
Northern Regional Honors Council Conference 2015
Battlefields of Change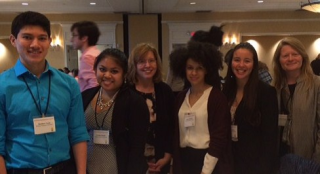 (from left) Matthew Louie, Trishia Omana, Jan Pinkston, Sara Williams, Rebecca Lubitz, and Dr. Susan Dinan
This year's Northeast Regional Honors Council Conference, sponsored by the National Collegiate Honors Council and the Northeast Regional Honors Council, was held April 9-April 11in Gettysburg, Pennsylvania. The conference establishes a forum for research, discussion, and networking. It presents students with the opportunity to present their thesis research to other university students and faculty members. Students can gain valuable presentation experience as well as have the opportunity to assess the reception of their research by a large audience.
The Honors College is proud to announce that four William Paterson Honors students presented at this year's "Battlefields of Change" conference. Nursing students, Matthew Louie, Rebecca Lubitz, Trishia Omana, and Sara Williams attended the conference with Dr. Susan Dinan, Director of the Honors College, and Jan Pinkston, Assistant Director of the Honors College. In addition to presenting at the conference, students also enjoyed opportunities to visit the historic sites at Gettysburg before returning to present their research to the University community during Honors Week.
Northern Regional Honors Council Conference 2014
Standing on the Edge: Challenging Boundaries and Power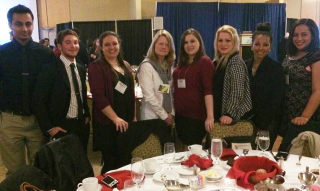 (from left) Neal Joshi, Devin Pendergast, Rebecca Wance, Dr. Susan Dinan, Caitlin Hoolihan, Katherine Pirera, Alexis Martinez, and Tanya Monroe
This year, seven William Paterson Honors students along with Dr. Susan Dinan, Director of the Honors College, attened the Northeast Regional Honors Council Conference in Niagara Falls, New York. The conference was held in early April and gave students the opportunity to present their thesis research. Students also had the opportunity to engage with peers and faculty members from Honors programs across the country and enjoyed an afternoon of sightseeing.
Northern Regional Honors Council Conference 2013
Life, Liberty, and the Pursuit of Happiness: Foundations, Tensions and Mediations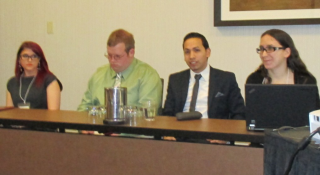 (third from left) Honors student Luis Vaca
Honors student, Luis Vaca, presented his Honors thesis project, Consumer Perceptions of Country of Origin in the Car Industry, at the Northeast Regional Honors Council Conference in Philadelphia earlier this month. Luis is a senior set to graduate in May with a degree in Marketing and Global Business. He chose to conduct his research under the Honors Marketing Track with the direction of Dr. Bela Florenthal. Dr. Shan Feng served as his thesis supervisor. The Honors College wishes to congratulate Luis on his outstanding achievements.
Student Spotlights
The Honors College publishes a newsletter several times per semester. The newsletter showcases the work of Honors students and highlights their accomplishments. The following are excerpts from previously published newsletters.
---
Student Presents to Board of Trustees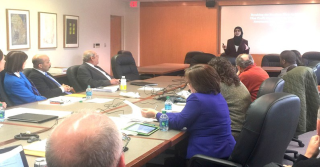 Manar Awad
Manar Awad is a recent Honors graduate who presented her thesis this past April during Honors Week. She graduated on May 13 with a double major in Accounting and Finance. Manar completed her thesis in the Business track and was invited to present her research to the Board of Trustees Educational Policy Committee. Among those in attendance were President Kathleen Waldron; Warren Sandmann, Provost and Senior Vice President for Academic Affairs; Dean Siamack Shojai, Dean of the Cotsakos College of Business; Dr. Susan Godar, Interim Dean of the Cotsakos College of Business; Mr. William Pesce, William Paterson University Trustee; and Ms. Pamela Ferguson, Vice President for Institutional Advancement.
Manar impressed all with her research entitled, Breaking the Barriers: How to Reduce Non Profit Organizations' Struggle for Awareness and Increase Financial Prosperity. Her research investigated the causes of financial distress of nonprofit organizations and examined methods through which organizations can increase their online presence and engagement with stakeholders. The goal of the project was to raise awareness about non-profit organizations in ways that increase donations, volunteerism, and long term engagement.
What sets this research apart is the fact that there has been little prior research that has explored the connections between the online presence and donations/volunteerism of non-profit organizations. Manar conducted student surveys and interviews with the goal of gaining an understanding of how students feel about non-profit organizations and their online presence. She is humbled and honored to have had the opportunity to present her thesis as well as represent the college in front of the Committee. The Honors College wishes to congratulate Manar for her wonderful accomplishments.
Interview with Alexa Zamora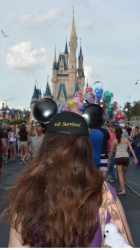 Alexa Zamora
Honors Student, Alexa Zamora, is currently a sophomore majoring in media production. An avid Disney fan, Alexa recently took a semester off from her studies at William Paterson University to participate in Disney's Fall 2014 Advantage Program. She recently spoke with Honors about her experiences in the program and her plans for the future.
Alexa's program began in May 2014 and spanned until January 2015. As per program requirements, she registered for several seminar classes including a Disney Heritage Program in which she examined Disney's film archives. As a media production major, the experience was fascinating for Alexa who appreciated the opportunity to examine films closely under the guidance of knowledgeable instructors. In addition to taking classes, Alexa was also assigned to the park's custodial staff and worked on the east side of Disney's Magic Kingdom.
When Alexa wasn't occupied with classes or work responsibilities, she took advantage of opportunities to roam the Disney Parks, visit the shops and restaurants of Downtown Disney, and explore Orlando. She is also grateful to have had the opportunity to meet and work with people from around the world.
Alexa's experience in the Fall 2014 Advantage Program motivated her to apply to the Summer Alumni Program. She has recently been accepted and is looking forward to working on Disney's attractions team.
---
Spring 2015
National Student Exchange Program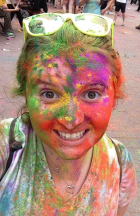 Katherine Machere
Honors student, Katherine Machere spent the Spring 2015 semester at California State University Chico in northern California as part of the National Student Exchange Program. Katherine is a sophomore pursuing a BFA in studio art sculpture and a k-12 education degree with special education certification. She recently took the time to share her experiences in the program with the Honors College.
How did you find out about the NSE program?
KM: How I found out about the program is actually a really funny story. During freshmen year, my roommate and I were hungry one day, and we were looking for free food. We happened across free pizza so we listened to the presentation it was for, and it turned out to be way cooler than we had bargained for. My interest spiked from there.
I wanted to apply because I didn't really think that I'd ever get the chance to go to the West Coast if it weren't for a program like NSE. I also found out that I could keep and utilize my scholarships if I did National Student Exchange as opposed to International. And lastly, I hate cold weather! I needed a break from the cold after last winter!
What courses are you currently taking?
KM: I'm studying Art Education but because of the way William Paterson accepts education credits, right now I'm taking some really cool art classes. I have 7 classes, Glass Art, Body Sculpture, Basic Sculpture, Advanced Life Drawing, Asian Art History, An internship with an art gallery, and an Intercultural Contexts Class. The internship is great because it is through the Art Education program here so I work with young children in the art gallery after school and we do projects with them weekly. It really is what I want to do with my life so I enjoy it.
Are you working on any interesting projects?
KM: Interesting projects! Yes! You asked the right girl! Right now for my body sculpture class I am making an action figure of myself, it has to be to scale and have accessories and all! Also in glass art we're learning mold making so I had my parents ship me a wax piece I made in foundry that I'm going to be casting in glass this week.
What advice do you have for student that might be interested in the National Student Exchange Program?
KM: Advice for students who might be interested..DO IT!!! Here's why, If you're an Honors student at William Paterson, chances are you live close by, it was an affordable option, and you probably have scholarships just like I do. Through Plan B all of my scholarships were usable so I was able to study in Cali for the same cost I pay at William Paterson (plus a flight or two). It's an awesome deal. They also have honors exchange, I met a friend here from South Dakota, and she's enrolled in an honors class here while on her exchange. She's taking an honors seminar class and said it was really cool. And besides that, NSE gave me the opportunity to come to the west coast, which never would have happened otherwise. I strongly recommend it! I'm having a great time out here.
If you have any questions about the NSE program, Katherine will be happy to answer them. Feel free to contact her at macherek@student.wpunj.edu.
---
Spring 2015
Stories form Students-Mission Trip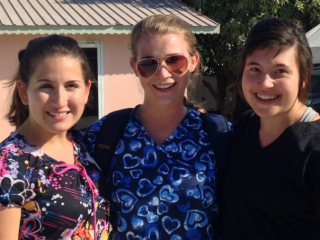 (from left) Carolyn Woyce, Amanda Uhlick, Emily Houwen
Senior nursing students, Amanda Uhlick, Carolyn Woyce, and Emily Houwen, took their studies outside of the classroom this past January. The trio embarked on a six day mission trip that brought them to Haiti on January 5, 2015. The trip was sponsored by Sigma Theta Tau, the International Honor Society of Nurses, and Foundation for Peace, a non-profit organization that aims that aims to unify the United States with materially impoverished communities such as those found in Haiti, Kenya, and the Dominican Republic. The organization works to provide healthcare, education, and economic opportunities meant to enable community growth and personal success to those living in communities with limited resources.
Emily, Amanda, and Carolyn met with Dr. Christina McSherry, former Director of the Nursing Honors Track, as they traveled to join approximately thirty other members of their mission group which included William Paterson alumni, nursing students from other universities, and healthcare professionals. The group was housed in Deller's Inn Hotel located in Croix- des-Bouquets. Throughout the course of their stay, volunteers visited a total of four local clinics and an orphanage. At each of the clinics, nursing students were paired with registered nurses as they prepared to assess and assist patients. Emily, Amanda, and Carolyn had opportunities to assess patients of all ages and provide patients with medication an treatment options, a task that was made difficult by the limited amount of supplies. "The main goal was to address patients," shared Amanda, "to establish eye-contact, and to communicate proper instructions to patients with the assistance of a translator." In addressing their patients, students came to understand that their presence was valued by the locals, whose smiles and warm welcomes made it clear that their time and knowledge were well received.
Interacting with the locals was difficult as a result of cultural, linguistic, and educational barriers; however, Emily shared it was not impossible. "We still made connections," she stated, speaking about her experience visiting the orphanage. While verbal communication was limited, all three students felt that smiles, laughter, and personalized attention allowed them to reach the children despite of cultural differences.
The places they visitied were places where, "Happiness is not materialistic," stated Carolyn. The trip, according to Emily, Amanda, and Carolyn, helped them to put things in perspective. As a result of their participation in this global cause, all three students have experienced the variety of paths open to individuals with nursing degrees, had opportunities to network, and learned alongside experienced professionals, and heard stories from inspiring people that will motivate them as they look to begin their professional careers.
Students Honored at Red Dress Dinner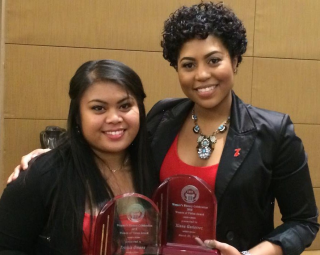 (from left) Trishia Omana and Xiana Guiterrez
Each year, the Student Government Association funds a Red Dress Dinner during Women's History Month. All proceeds of the event are donated to the American Heart Association. This year's event was held on Wednesday, March 25. In attendance were Honors students, Xiana Guiterrez and Trishia Omana, who were both honored at the event with Women of Vision Awards.
Xiana is a junior nursing student who was nominated by Maribel Rodriguez. She was recognized for her academic excellence, volunteerism, and the leadership roles she has taken on. Xiana is a student ambassador, orientation leader, President if the Brilliant and Beautiful Dolls service organization, and has developed the WP Women's Retreat, a program designed to support women in surrounding community organizations.
Trishia is a senior nursing student who was nominated by Jan Pinkston. She was recognized for the active community service roles she has taken on since high school, the leadership roles she holds in the Student Nurses Association at William Paterson, as well as her strength, determination, and dedication in achieving the educational and professional goals that she has set for herself.
Honors College students, Erica Park and Kristina Lynn Sternesky, were recognized, for being Student Essay Contest winners. The Honors College wishes to congratulate Xiana, Trishia, Erica, and Kristina for their outstanding achievements and upon receiving honorable recognition at this year's event.
Student Accepts Teaching Invitation at Oxford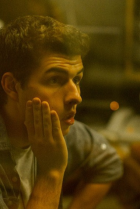 Eric Dolan
Eric Dolan is a recent Honors graduate who was honored at Commencement with a degree in Broadcast Journalism and a minor in Media Studies. He completed his Honors Thesis through the Performing and Literary Arts Track. In addition to preparing his Thesis presentation during the spring semester, Eric held an internship with New York Public Library for the Performing Arts in Lincoln Center and planned a trip to Oxford where he assisted Dr. Robert Quicke in presenting a lecture over spring break. Eric took time out of his hectic schedule to share his experiences with Honors. See what he had to say about his exciting experiences.
What is your current internship position?
ED: I am currently a Museum Department Intern at the New York Public Library for the Performing Arts in Lincoln Center.
What does the position entail?
ED: Given my background in radio and deep interest in early television programming and radio dramas in general, I have been tasked with combing the archives for scripts to be presented by our radio station at the end of the semester in cooperation with NYPL. I also help curate the selections for upcoming museum exhibits, help physically construct the exhibits, and write descriptive blurbs for the artifacts.
How did you find out about/apply for the program?
ED: I actually found and applied for the internship though the website InternMatch. I had made an account and was scouring it for opportunities when I stumbled across this. Had it not been for the connective madness of the internet, I would have never known about the New York Public Library for Performing Arts, let alone this internship.
What are you hoping to gain from this experience?
ED: There is a certain, absolute, sense of satisfaction that comes from breathing life into manuscripts of old. I have the opportunity to dip into the archives, find a script that is still marked in pencil by its creator, and bring it to a college campus where it will be performed for the first time in over 60 years. That's extremely special, and the exact sort of unconventional media experience I was hoping to receive from interning at a museum as opposed to a commercial media outlet.
Can you tell us about your teaching opportunity abroad?
ED: Along with Sebastian Escobar, I will be helping Dr. Robert Quicke present a lecture on International College Radio at Christchurch in Oxford over spring break. We'll each have an opportunity to speak in front of the audience and help Dr. Quicke construct the framework for his presentation.
How did you acquire the position?
ED: I have been working with Dr. Robert since my freshmen year at the radio station as Music Director and then eventually as the Director if his record label, College Radio Day Records. Once he attained the sabbatical position, he reached out and expressed his desire to have Sebastian and I visit England during his time there, not only to assist with the lecture but also as a personal learning experience for each of us. Professor Quicke is unlike any other I have experienced here, and his desire for us to grow not only academically vis this opportunity is only outshone by his absolute desire to have us grow personally and creatively from traveling outside of the country.
What are you most looking forward to?
ED: As incredible as the actual lecture will be, I have never left the country, and so barring jetlag or general exhaustion, the moment that I step out of that plane onto foreign soil will be pretty i9ncredible.
How do you think this opportunity will guide your future goals/career choices?
ED: Well, I hope it makes graduate admissions across the world salivate, but it is really about an intangible personal growth for me. I'm thrilled for the educational opportunity, the professional nature of the whole experience, but more than any of that, I want to analyze and experience the culture of a foreign land; I want to view America as an outsider for a while and see how it shapes my creative style.
---
Spring 2015
The Life of Pi Suite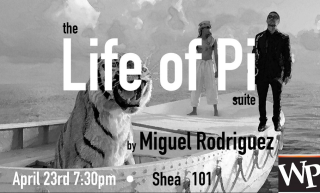 Miguel Rodriguez is a 2015 Jazz Studies graduate. He recently spoke with Honors about his thesis project entitled, "The Life of Pi Suite" which he performed for the University community on April 23. See what Miguel had to say about his experience in the Performing and Literary Arts Track.
Which Honors Track did you select and why did you select this track?
MR: I selected the Performing and Literary Arts Track (PLA) because it seemed to align perfectly with my career interests of writing and performing. I also chose the track because I very much enjoyed having Professor Cioffari as my College Writing teacher. Working with him on my thesis was a complete joy. He really encouraged me to think outside the box.
Can you tell us about your thesis project?
MR: My thesis project is really a culmination of all my musical and extra-musical work while at William Paterson. Even though I had been primarily studying music, I have developed a real appreciation for story telling during my time here. I wanted to bridge these two things in an explicit way for my project. I decided to use one of my favorite novels/movies, The Life of Pi, and attempt to bring it to life as a suite of music. I incorporated a string section into a traditional style jazz instrumentation to hopefully achieve a cinematic sound. In my completed work I included a detailed explanation of how I analyzed passages from the book and translated the work into musical information. It was very fun being creative and thinking of different ways to express emotions in visceral musical ways.
While it's easy to get wrapped up in the competitive nature of music school, this project really brings me closer to the root of why I play music. It's for the audience and myself, not for the other musicians. I wanted to remove thoughts from my head like "I have to follow these rules," or "it needs to be this complex". I just want to create things that people can understand and really digest. For most people, jazz is something totally foreign and incomprehensible. I believe this comes from musicians wanting to excite and please other musicians. I hope that non-musicians can enjoy what I have put together.
Can you comment about your experience in the Honors Program at William Paterson University?
MR: One of the highlights of William Paterson, for me, has been the Honors College. Everyone involved is really passionate about whatever they are doing and still, they are always receptive and kind to you and your ideas. That's something that is really hard to find. I'm happy that I had the opportunity to join the Honors College. In particular, I really enjoy(ed) my time meeting with Assistant Director, Jan Pinkston. I owe her a lot. She is wonderful! She helped me in so many ways throughout my time at William Paterson. She has been my go-to person for advice regarding my thesis and anything else related to life as a student.
What do you see as the value of completing an Honors Thesis Project?
MR: I think doing a thesis project on a subject you really are passionate about can do many great things for your career. Also, in my experience, it has opened me up to different career paths I never imagined before. That is a big part of the Honors College experience for me- getting exposed to other peoples' interests and collaborating in different ways. Overall, I think no matter how abstract or simple your idea for a thesis; there are practical uses for it. And whatever you do can take you right where you want to be. It can be a real boost.
---
Spring 2015
Students Present at New York City Conference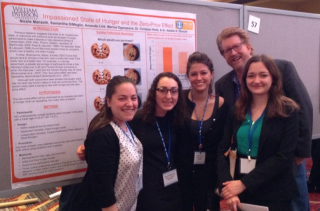 (from left) Honors student, Samantha DiMeglio and Nicole Manzetti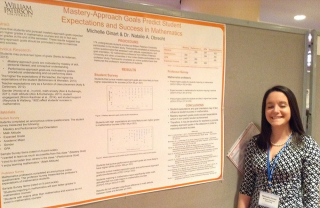 Michelle Ginart
The Association for Psychological Science held its 27th Annual Conference in New York City on May 21-24. Among those in attendance were Eman Al-Jayeh, Samantha DiMeglio, Michelle Ginart, and Nicole Manzetti, all students from the Cognitive Science Track. In addition to attending lectures and symposiums, students presented their Honors Thesis projects during poster sessions.
Students pursued a variety of topics related to their personal interests and/or future career goals. Eman Al-Jayeh presented her research entitled "The Effects of Bilingualism on Executive Functions", Samantha DiMeglio presented her research entitled "Type A Personality and Procrastination", Michelle Ginart presented her research entitled "Mastery-approach goals predict student expectations and success in mathematics", and Nicole Manzetti presented her research entitle "An Impassioned State of Hunger and the Zero Price Effect".
"I never would have imagined that I would have attended an international conference and presented an original research study," shared Michelle Ginart. "None of this would have been possible without the Honors College, my thesis advisor, Dr. Obrecht, and track director, Dr. Learmonth. This has been one of the best experiences of my college career, and it has opened some doors to future education and career options that I had not previously considered." The Honors College wishes to congratulate Eman, Samantha, Michelle, and Nicole for their outstanding achievements.
Spring 2014
Student Spotlight-Marketing Track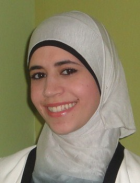 Manar Awad
Currently enrolled in the Marketing Track is Honors student, Manar Awad, who is pursuing degrees in Accounting and Finance. Manar chose to enroll in the track because of its relevance. "Marketing reaches every individual," she says, "no matter their age, gender, race, religion, etc.". As a business student, she feels that the track will provide her with valuable insight into the marketing world. While Manar has not yet declared a topic for her thesis project, her research interests include investigations of cross-cultural marketing throughout history with particular emphasis on multicultural marketing in the United States.
Manar was recently inducted into Beta Gamma Sigma, an international Honors Society that recognizes the "Best in Business" and supports students with educational advancement and professional enrichment opportunities. "I am honored to be a part of a society that places such high importance on maintaining the ethics and morals of business," says Manar as she looks forward to progressing in her studies.
Stories from Students-Women's and Gender Studies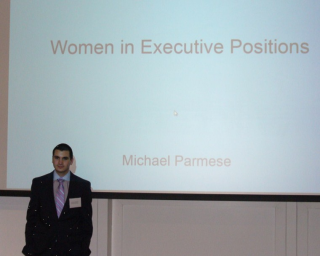 Michael Parmese
Two Honors Students presented at the New Jersey Women' and Gender Studies Consortium's 10th Annual undergraduate Research Colloquium on Friday, April 4 at the College of New Jersey. The event opened an all-encompassing, state-wide forum for discussion of issues relating to the functioning of Women's and Gender Studies Programs. Dr. Carole Sheffield of the Department of Political Science, who also teaches an Honors course, attended this year's conference with students, Michael Parmese and Joseph Stefan. Michael's presentation was entitled "Women in Executive Positions". Joseph presented his work entitled, "The Sex and Gender Binary: The Enforcement of Sexism and Heterosexism in Music".
Fall 2014
Stories from Students-Internships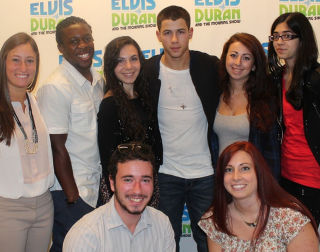 Phillip and interns with Nick Jonas
From editing promos and commercials to meeting with celebrities, senior Honors Student, Phillip Gorokhovsky, has his hands full as an audio production intern for Elvis Duran and the Z100 Morning Show. Phillip recently shared his experiences with the Honors College. See what he has to say about interning for the Morning Show and the advice he has to offer to those considering applying for internship programs.
Where are you currently interning?
PG: I'm an audio production intern for Elvis Duran and the Z100 Morning Show. And if you listen to the show, you know how big of a role the interns play in the planning and execution of the show.
What does your position entail?
PG: I would love to start my next sentence with, "so a typical day at the Elvis Duran and Morning Show looks like this." But, I can't. Typical days don't exist here. I can, however, tell you what I usually do. I record and edit liners, promos, commercials and entertainment news updates with the morning show hosts. Once all of the recordings sound nice and pretty, I do one of several things with them. I'll either send them out to affiliate stations, get them ready to be played on Elvis Duran and the Morning Show or On-Air with Ryan Seacrest-Z100's midday show-or, if they're commercials, we send them back to the companies that requested them so they can be chopped up and rearranged. I also get the chance to exercise my creative side by putting together videos for the morning show's Vine, Instagram and Keek accounts as well as the show's website, in addition to a bunch of other projects.
How did you find out about the position? What was the application process like?
PG: I found out about the position through online research. I love the show and figured, why not shoot for the top? I put together my resume/cover letter and applied online. The next day, I got a call from the show looking to schedule an interview with one of the executive producers. The interview lasted about an hour and a half, but that's because we had a lot in common. We mostly talked about music, TV, radio, travel, and a touch of politics, believe it or not.
Have you met any celebrities? What were those experiences like?
PG: I love spontaneity. I live for it. That's why I enjoy radio and that's why I enjoy working with Elvis Duran and the Morning Show. Let me give you an example. Picture this: It's my second week on the job. I walk into the Z100 studios (where Elvis and the crew do the show), I take off my ear buds (because earbuds are a must in New York), and I look back and see Elvis pointing at me through the studio window. I did one of those things where I looked behind me to see if there was anyone else he could have possibly been pointing at. In the meantime, I hear everyone shouting "get in!" So, I did as I was told and I joined a nationally syndicated morning show for a few of the most exciting minutes I have ever experienced in broadcasting. Turns out, they just liked my shoes. So far, I had the chance to meet Jake Miller, Nick Jonas, Alicia Keys, Usher, Jason Derulo, Wendy Williams, Billy Bush, Pentatonix (an a cappella group), and Jared from Subway. I also got the chance to see Ryan Seacrest when he came to visit from LA.
What advice would you give to students who might consider applying for internship programs?
PG: There are a few things I would say to students applying to internship programs.
Don't fall into the trap of self-pity.

Chances are, where you intern is not where you will ultimately be. I have absolutely no idea what will happen or where I will be tomorrow, much less at the end of the semester. And that feeling, strangely enough, comforts me. If you ask me "what do you want to do when you graduate?" I'll tell you I want to work on something of my own. "What's it going to be?" I don't know.

DO NOT be afraid to talk to people. In fact, talk to everybody. That security guard in the lobby you chat with every morning might sneak you into some exclusive event one day. (Happened to me before).

Try to tackle as many things as possible, and when you feel overwhelmed, tackle even more. That's when you learn the most about yourself.

CLICHÉ ALERT-Shoot for the top all the time. The worst thing that may happen is you don't reach it. But the best thing that may happen is you do. I always felt like it's more rewarding to work for yourself than for someone else. I personally, don't feel successful until I follow through with something I came up with. Now, I know that's not the case for everyone, but, if you were to take one piece of advice from this entire interview, let it be this: Don't follow in someone else's footsteps. Start something that matters. Make something beautiful and share it with everyone.
Time for Honors Alumni-Case Study Project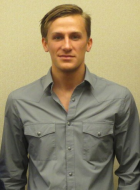 Christopher Polakowski
Dr. Bela Florenthal, Director if the Business Honors Track, and Christopher Polakowski, former Honors student, collaborated on a social media case study project last spring. Dr. Florenthal and Christopher worked with a New York City-based firm looking to develop an index that assesses performance of companies on social media platforms. The case study introduced the formula that provides companies with a single-number index between 0-100 which indicates how effectively the company utilizes social media in terms of content and platforms. Together, Dr. Florenthal and Christopher developed this index to help a company compare its success to competing brands in terms of alignment with customer needs.
The case study was submitted to the Jacobs & Clevenger Case Writers' Workshops Competition which recognizes three case studies annually. Christopher and Dr. Florenthal's work received the first place award distributed by the competition's organizers. Their award included a monetary prize, recognition at the EDGE summit 2014 conference in San Diego, and a chance to publish research findings in the International Journal of Integrated Marketing Communications.
The case study was well received. Dr. Bela Florenthal and Christopher are proud to announce that their social media index formula will be published by the end of this quarter. Congratulations to Dr. Florenthal and Christopher for their outstanding scholarship and achievements!
---
Fall 2014
Stories from Students-Honors Track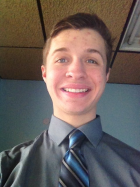 DJ Simon
The Honors College at William Paterson University challenges students to explore curricular interests in depth and to take risks when meeting their educational and professional goals. Honors student, DJ Simon, is doing just that. DJ is a junior pursuing a double major in secondary education and mathematics. Despite his interests in mathematics, DJ has chosen to enroll in the Performing and Literary Arts Track as means of exercising his creative abilities. He recently shared his thoughts about the interdisciplinary nature of his course of study with Honors.
Which track did you choose to enroll in and why?
DJS: I chose to enroll in the Performing and Literary Arts Honors track. One of the main reasons why I decided to choose Performing an Literary Arts is because I felt it would really give me an opportunity to make my curriculum diverse and allow me to choose classes to enjoy outside of my math courses. As I learned about the different tracks, I also thought this could benefit me in my passion for music. I am slowly learning more about poetry and songwriting.
What made you interested in selecting a track that is outside of your major?
DJS: I feel that choosing the Performing and Literary Arts Track gave me the opportunities to take a different set of courses that I wouldn't normally take as a math major. I thought it would be a great challenge to be able to dive into two different fields during my college experience and make the most of it. One of the other reasons why I decided to take this track was because although I love music and want to learn more, there are no courses that I could take to learn music since I am not a music major. While I may not be able to take those courses, the Honors track allows me to find a way to learn more about playing the guitar and such from other experiences like jamming out with other music students. So overall, this track allows me to experience a diverse set of courses in my time here at college and also gives me the opportunity to really experiment in music and poetry.
What do you see as the benefits of completing a track that is not directly related to your major?
DJS: I feel that one of the greatest benefits that I cannot mention enough is the diverse set of curses that I get to experience in each of my semesters. I love being able to have math courses mixed in with writing courses. This way, I find myself not doing the same thing every night for homework. I find that with math, I am expanding my knowledge and experience in higher courses, while with writing, I am able to creatively express myself and explore more ways to write fiction or write songs for the future. While this may seem scary to some students, I find it very beneficial to a student's college experience to explore different subject areas to find more about what they enjoy.
Any ideas about your thesis project yet?
DJS: I actually knew what I wanted to do the moment I signed up for the track. I will be putting together an EP (an unreleased CD) of five to six songs and maybe some spoken word. I have been experimenting with song writing, and at the moment, I have two of my original songs on YouTube as well as some covers of other songs. I am currently still working on other originals, some of which I feel are ready, and others which I want to either scrap or completely re-work, which often happens with poetry.
Can you comment on the value of completing an Honors track?
DJS: On completing an Honors Track, I feel that there is more of a benefit than just graduating with Honors on your diploma. Completing an Honors track (regardless if its similar or opposite to your major) allows you to come out with an expanded college experience. If I wasn't doing this Honors track, I would probably go nuts with the amount of math classes that I have to take. Even though completing this track may not benefit me in my future career, this Honors track gives me the opportunity to try something new and to take risks in college.
Any additional comments?
DJS: I would like to use this section to thank some people who have really helped me specifically grow in music and poetry. I want to thank my parents for their support and for encouraging me to strive for my best in school. In particular, I want to thank my friend Kyle Cooke and his crew, Heather and Sam, for helping me get started on YouTube by filming my performance of one of my originals for his channel. Kyle's channel is Sound Eclipse if you want to check out other talents that he records around Willy P https://www.youtube.com/user/soundeclipsevideo. I also want to thank my friend, Ed, who found out about me wanting to do an EP and told me he'd be more than willing to help me put it all together. There are so many people that I want to thank, but these two are really helping me put together everything I need to do for this Honors track. And of course thank YOU honors @ willy p for asking me to be a part of this interview.
Students Attend Anthropology Conference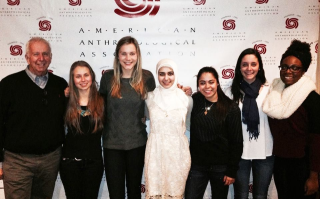 (from left) Dr. Ronald Verdicchio, Megan Perry, Paige Rainville, Eman Al-Jayeh, Amani Kattaya, Kelly Ginart, Bria Barnes
Honors Students Eman Al-Jayeh, Bria Barnes, Kelly Ginart, and Paige Rainville have been working alongside students, Amani Kattaya, Megan Perry '13, and Dr. Ronald Verdicchio, Associate Professor of Education and Anthropology on an ethnographic field study of Prospect Park, New Jersey. The study has been ongoing for three years, and the research team is proud to announce the release of its first publication, Images of America, Prospect Park. The book documents the rich history and cultural diversity of the Borough of Prospect Park and it officially hit stores on December 1, 2014.
The students along with Dr. Verdicchio attended the 113th Annual American Anthropological Association Conference in Washington D.C. held December 4-7. The team presented a paper titled, When Ethos Withers: Finding Community Lost. They also participated in a panel discussion, and enjoyed unique sight-seeing opportunities such as a visit to the Embassy of the Federal Republic of Germany to see a 30-ton section of the Berlin Wall and a visit to the Embassy of the Kingdom of the Netherlands. While visiting the embassy, the group presented signed copies of the book to embassy representatives.
News in Student Research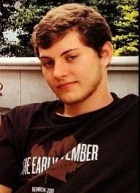 Richard Siegler
We recently had the opportunity to speak with Honors student, Richard Siegler, about his impressive Honors thesis and exceptional plans following graduation.
A deep interest in history, particularly Napoleonic History, encouraged Richard to enroll in the Honors Humanities Track under the direction of Dr. John Peterman. Dr. Susan Dinan, professor of History and Director of the Honors College, is his thesis supervisor. His thesis project is a combination of historiography and history that aims at using a new approach to military history, an applying it to the Napoleonic Wars. Richard explains that much of the theorization of military history is Eurocentric, describes military capability through technological biases, focuses on leading powers, and favors a separation of land and sea conflict to name a few. As such, he was inspired to look at the Napoleonic Wars in a new context that incorporates these issues in a more comprehensive view than would normally be presented.
In his research, Richard calls the Napoleonic War the first modern global total war. He examines the new methods of fighting invoked, such as shifted interest in defeating the enemy armies rather than merely acquiring territory and the development of the Corps System. Richard also touches on the idea of modern government and its use of propaganda. He cites examples of bulletins written and used by Napoleon himself as well as political cartoons to demonstrate the evolution that has taken place in the manner in which governments shared and distributed information.
Richard's interests and thesis project have helped to finalize his plans for his future. He has completed his degree in History and the Honors College at William Paterson in only three years and has recently been accepted into a master's program at Florida State University. The work he will complete through the Honors Track will enable Richard to obtain his master's degree in only a year and a half through an accelerate program. From there, he plans on beginning his journey to receive his doctorate in the hope of one day becoming a university professor.
Reflecting back on his experience in the William Paterson University Honors College, Richard admits the proposition of a thesis is not as intimidating as its initial notion was. He explained that college coursework and requirements have prepared and eased him into the process of preparing his own thesis. He wisely believes that completing an Honors thesis is very rewarding in that it will put students ahead, whether that be in career opportunities or in graduate school. He said that at the completing of the research, students should give themselves a pat on the back and be proud of their dedication.
---
Spring 2013
Honors Thesis Research in Nepal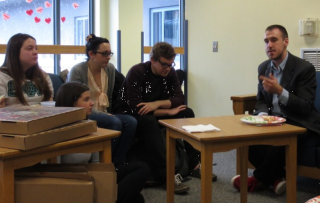 Dylan Anderson
The Honors Club was joined by Honors student, Dylan Anderson, at the Lunch in the Lounge on Thursday, March 7th. Dylan is a Jazz studies major and has chosen the Independent Track under the direction of Dr. Susan Dinan. Dr. John Peterman is supervising his thesis work. He has been playing the saxophone since the age of ten and has also had a deep interest in Zen Buddhism, both of which he has worked to integrate into his research.
In his studies, Dylan is looking at jazz as a methodology within the realm of critical social theory in order to designate it a liberating force against social oppression. With a grant from the Student Undergraduate Research Program, Dylan was able to conduct research for his thesis in Nepal. He shared a few interesting and adventurous stories about his seven week experience including accounts of navigating public transportation, overcoming the language barrier, and interacting with people he met along the way.
Perhaps most interesting, was the ten day Vipassana Meditation retreat Dylan attended in a monastery. The retreat had a strict program that called for no speaking, ten hours of meditating while sitting in the same position, and one main meal a day. Dylan explained how difficult it was to adjust to the program initially, but recognized how rewarding it was in the long run. He shared how learning to meditate and spending much time doing so, gave him the opportunity to liberate himself from regular thoughts and mental formations he is exposed to on a regular basis. The experience was very insightful to his research.
Dylan returned from his trip with a wealth of knowledge and experiences, and also with a greater appreciation for the life and opportunities he has been given. He stressed how fortunate he is, and we all are to have the opportunity to attend college and expand our education. He urged students to take advantage of all that college has to offer. Dylan noted that there are wonderful programs available and that with hard work and patience, there is nothing that cannot be imagined, arranged, and accomplished.
First Year Student and Author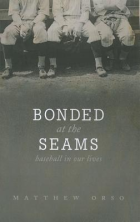 Not many eighteen year olds can call themselves published authors however, Matthew Orso, a freshman in the Honors College can do just that! We recently had the privilege of meeting with Matthew and asking him questions about his unique experiences. Matthew's Book Bonded at the Seams, chronicles baseball history through an American sense and perspective highlights the author's passion for both baseball and sports journalism which he hopes to pursue further through his studies.
Matthew keeps himself bust working for New Jersey Baseball Magazine as well as being the voice of a radio sports talk show. Despite all that he has going for himself, he remains humble and gracious for each opportunity that comes his way.
Matthew's advice for all aspiring writers and anyone with a dream is to simply go for it. He says that with persistence, determination, and hard work, anything can be accomplished.
Stories from Students-Ethnographic Field Study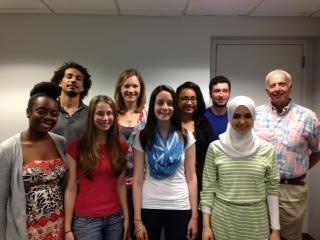 The Prospect Park Research Team
Under the leadership of Dr. Ronald Verdicchio, Associate Professor of Education and Anthropology, Honors students, Eman Al-Jayeh, Bria Barnes, Abrahim Elgindy, Jean Gervais, Kelly Ginart, Philip Gorokhovsky, Sara Johnson, Amani Kattaya, Megan Perry, Paige Rainville, and Rita VanderStad have been working on a two-year ethnographic field study of Prospect Park, New Jersey.
Prospect Park was founded in 1901 by Dutch settlers who heavily influenced the town's early structure as well as its cultural and religious practices and observances. In time, however, immigration and migration patterns have brought great diversity to the Borough of Prospect Park. The research team has been investigating the impact social change has had on the community as well as how these changes have impacted its school.
The first year of the study was dedicated to gaining entry into the community and learning about history. The research team engaged in volunteer activities and participant observation as well as conducted oral histories and formal interviews with community residents and leaders. Currently, the team is focusing its attention on studying Prospect Park School. In observing and interviewing teachers, students, and parents, the team hopes to gain a better understanding of the degree of cultural change the community has undergone and how that change affected education.
Time for Honors Alumni-Meridian Evidence Based Practice Research Conference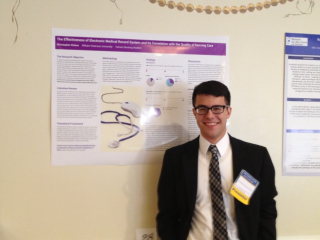 Christopher Klobus '12
Nursing major, Christopher Klobus, completed the Honors Nursing Track and graduated from William Paterson University last May. He presented his Honors thesis entitled The Effectiveness of Electronic Medical Record System and It's Correlation with the Quality of Nursing Care during Honors Week last Spring. Christopher may have left campus, but he certainly has not abandoned the work he began as an undergraduate in the Honors College.
While in the process of submitting his research for publication, Christopher was invited to attend the Meridian Evidence Based Practice Research Conference held in West Long Branch, New Jersey. Christopher accepted the invitation and attended the conference with his thesis supervisor and director of the Honors Nursing Track, Dr. Christina McSherry.
The Meridian E.B.P. and Research Conference is associated with a variety of healthcare organizations, hospitals, and universities, and aims to present current and relevant evidence-based studies to those in attendance. At the conference, Christopher entered his research into a poster contest, competing with graduate students and experienced R.N.s. The judges were impressed with his articulacy and knowledge of the subject, and presented him with the Nursing Research Poster Award and the opportunity to attend another Meridian Conference. In the meantime, Christopher plans to continue to expand his pilot study as well as gain nursing experience in the field. He admits that working to complete and Honors thesis wasn't easy, but it certainly was a life-changing experience that was worth the effort. Congratulations to Christopher on his wonderful accomplishments!
Stories from Students-Internships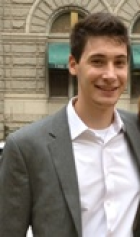 Gordon Kessler
If you are looking to broaden your college experience, why not consider study abroad and internship opportunities? When you take the chance to think about it, you'll quickly realize that there are plenty of programs and opportunities open to students who want more than a seat in a classroom.
Gordon Kessler is an example of an Honors student whose initiative and persistence guided him in creating a memorable and educational experience this past summer. He is currently a senior majoring in political science and has chosen to complete his Honors thesis in the Social Sciences Track.
Last year, Gordon applied for an internship through the University and was accepted to work alongside Congressman Bill Pascrell as a part of his campaign team. Enjoying his work and eager to experience the legislative side of politics, Gordon decided to apply for a second program at the completion of his first.
The second internship brought Gordon to Washington D.D. where he was housed at American University. He spent nine weeks working in Congressman Pascrell's office and absorbing the rich culture and historical heritage of the area. Gordon enjoyed giving tours of the Capital Complex, preparing material for Congressman Pascrell, standing on the floor of the House and Senate Chambers, watching a Congressional baseball game, and bumping into politicians on a daily basis among all of the opportunities the program facilitated. Most important, however, is what he was able to take away from the experience.
Gordon walked away from the internship with a greater understanding and appreciation for the passion and persistence of our policy makers in Washington, as well as University credits for all of his hard work. He is thankful for all he has learned in the process and urges all students considering an internship program to go for it without question. Gordon says that opportunities like internships give you practical experience that can provide insight and direction when planning for the future.
"Measure Twice, Cut Once"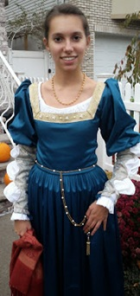 Gabriela Salvador
Gabriela Salvador is an ambitious Honors student with a creative hobby. From the moment she began making clothing for her dolls, she has had a passion for sewing. That passion, along with a love and understanding of the connections of art and history, led Gabriela to take on historical sewing projects.
With artistic inspiration, Gabriela designs her own patterns, takes measurements, and cuts and divides fabric to make intricate and beautiful representations of historical clothing such as the "Bronzino" Italian Renaissance gown pictures here. She used period accurate techniques in sewing and never loses an opportunity to learn about the history of the period in which she in which she is working.
Aside from pursuing a double major in Journalism and Writing, Gabriela is also the curator of the Kearny History Museum and the creator of a sewing blog that chronicles her work and experiences. At the museum, Gabriela has been working to clean up an organize displays of antique Victorian and Edwardian clothing in assuring that the articles are displayed appropriately and accurately. Her blog, pourlavictoire.blogspot.com, documents her learning experiences, projects, and even includes informative tutorials.
In the future, Gabriel plans to continue her work with historical sewing. Her plans include creating an 1870 Bustle and Florentine dress that would have been worn by a lower class woman.
"Measure Twice, Cut Once," says Gabriela when asked for advice she would give to those pursing similar projects. Her dedication to historical sewing and learning and skillful handiwork prove that she has done just that.
Honors Student Eric Dolan Shares his Alternate Spring Break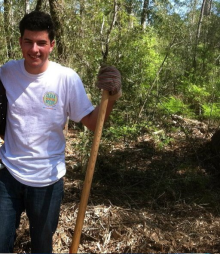 Eric Dolan
Eric Dolan is currently a freshman in the Honors College, and he spent his spring break in Biloxi Mississippi doing some very interesting volunteer work as part of United Way's Alternate Spring Break. We had a chance to sit down and ask Eric some questions about this meangiful once in a lifetime experience.
What exactly was your alternate spring break?
ED: Basically it was a program through United Way Worldwide where they host a week of activities based entirely around giving back to the community, working through the local United Way in Mississippi who coordinated the projects for the week.
What kind of work did you do in Biloxi Mississippi?
ED: A lot of work! I was on the land trust project, basically they are two volunteers who spent two months living on the gulf, and my project was to build a hiking trail for blind people. The first day we worked at a no kill animal shelter where we organized their thrift store which was used as a fund raiser so that they would not have to put down the animals. Throughout the week we were bouncing all over the place, 7am to 4pm of nonstop community activities.
What was your most memorable moment of the trip?
ED: One of the nights the local people came to donate food to us. We were all eating and I went up to the owner of the restaurant who had donated the food to thank him and shake his hand and instead he said "No thank you" and he shook my hand. It was the moment when I realized all that we were doing for this community. Also walking down highway 90 and it was a beautiful beach on one side and empty lot after empty lot of space on the other. All that's left of some houses is a staircase to nowhere and there aren't enough finances to rebuild many of these areas.
Anything else?
ED: It's important to be aware, that even though it's not the main focus and MTV isn't going down there, of how natural disaster affects an area. Right down our road in Paterson there is a United Way branch, and next year I am trying to get a United Way branch on campus. There are places right down the road that need just as much help as the area I was in.
---
Spring 2012
Honors Student Named 'Best College Radio Talk Program Host'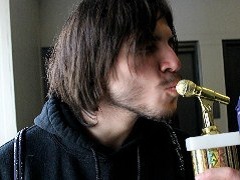 Stephan Bisaha
Honors student Stephan Bisaha was awarded first place for the Best College Talk Program Host on William Paterson's WPSC 88.7 Brave New Radio. His talk program, The Monday Morning Blend, incorporates a wide variety of news, politics, and other pop-culture. Stephan is a member of the Honors Literary and Performing Arts Track. In his free time, Stephan hosts the Pioneer Players, and improv group on campus. We caught up with Stephan and asked him a few questions.
What is the award and what does it mean to you?
SB: The award is from the intercollegiate Broadcast System Organization (IBS) with over 1,000 college stations as members and I was given the national award for best talk show program. It's validation of what I work so hard for, since with any broadcast you don't get much feedback. It really pays off and it makes us all want to work harder to improve segments and make the show even better.
What are you planning on doing for your Honors Thesis in the Literary and Performing Arts Track?
SB: I am planning on doing a radio drama. I have a lot of ideas and am planning to use experimental concepts that no one has ever done before. It is under wraps right now, but it has the potential to be a really great piece.
How do you think that winning these awards will impact the station?
SB: The variety of awards and finalists awards will help gain recognition for the station. The awards will also help to inspire the DJ's on the station to excel further and take the extra steps to make it better. It doesn't make you lazy, it makes you want more. Brave New Radio will be doing bigger and better things in the future.
---
Student Spotlight: Ian Myre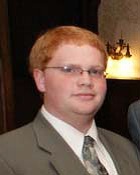 Ian Myre
Ian Myre, a second semester sophomore majoring in International Business and Political Science in the William Paterson Honors College, is an impressive young man in the pursuit of a career in diplomacy and international relations. He was able to experience a semester abroad at Georgetown University in Washington, DC and take part in the "Capital Semester" program, run by The Fund for American Studies (TFAS). Having previously traveled to Russia in 2007 and 2008, it was easy for Myre to study during the Fall 2010 term in the nation's capital. "This program showed me exactly what I wanted to do," Ian remarked, which for him is to hopefully become a Foreign Service agent for the State Department and possibly work in Ireland, Russia, or Georgia.
Through this internship, Myre stated, he met people who helped to map out his future. Myre had worked for an individual who had been in the CIA and was fortunate to meet the Secretary of the Army John McHugh, the Interior Minister of the Republic of Srpska, the former Ambassador to Russia and the Irish Ambassador to the United States.
Everyone around him was able to make suggestions about what to do in order to succeed in their field and their knowledge provided sound guidance to each of the students. He was also able to attend briefings for the State Department and the Federal Reserve. Before the start of the program, the students filled out surveys that helped to narrow their focus and better place the students in the area of their interest.
Myre was quick to recommend this program and encourages students to take advantage of study abroad experiences. Whether someone's passion involves foreign languages, the arts, or the government, it is important to broaden one's horizons while they have the opportunity to do so.
Honors student presents 'Art in Motion'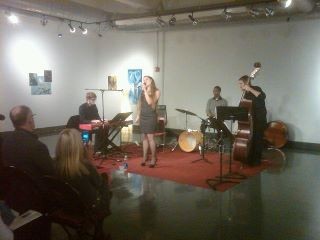 Nalani DeMarco Clisset performs at the Power Art Gallery
Nalani DeMarco Clisset presented her thesis project on Friday, December 2 at the Power Art Gallery. The presentation, Art in Motion, featured Nalani's original art work and jazz music presentation of cover songs and Nalani's original compositions. The performance featured Nalani on bass and vocals, along with several other William Paterson music students: Dylan Anderson, Tenor Saxophone; Will Dougherty, keyboard; Dan Filipak; bass, Errold Lanier, drums; and Kevin Sanchez, Alto Saxophone.
Nalani, a senior jazz and vocal major, completed the project as one of the requirements for completion of the Honors Independent Track. Students pursuing this track work with the Honors College Director, Dr. Susan Dinan, to design a track that suits their needs. Students then proceed under the guidance of one or more faculty members from appropriate academic departments who provide expertise and mentor the students as they work toward completion of a thesis or final project. Nalani worked closely with Dr. David Weisberg, Charles Magistro, Armen Donelian, Marcus McLaurien, Janet Reeves, and Dr. David Demsey on this project.
Nalani DeMarco Clisset was born and raised in Niwot, a small town near Boulder, CO. Her first exposure to jazz and improvisation was in her private voice lessons with Marguerite Juenemann, a vocalist from the acclaimed jazz group Rare Silk. She further developed her talents through the mentorship of Grammy-winning, Victor Wooten, after attending a bass/nature camp when she was fifteen. Nalani chose to attend William Paterson University and study Jazz performance because she wanted to challenge herself in a rigorous program that would allow her to study both bass and vocals. Her intention was to gain a working knowledge of this complex art form, and to be able to apply it to the development of her own musical path.
While at William Paterson, Nalani has had the privilege of studying with Marcus McLaurien, Nancy Morano, Karen Born-Cafaro, Janet Reeves, and Armen Donelian. She has taken advantage of many diverse opportunities such as performing with the William Paterson Symphony Orchestra, The Latin Band, where she played both percussion and bass, and as pit band bassist for the theatre debut of Disenchanted. She also pushed for different concepts for ensembles such as The Stevie Wonder Concept group that she formed in fall 2010.
Nalani constantly seeks inspiration and knowledge, which is why it only seems natural that she reaches into other creative outlets and is involved in so many facets of the university and the music world. Nalani entered the Honors College as a first year student in 2008. She serves the campus as a resident assistant, a peer health advocate, and as one of the Student Representatives on the William Paterson University Board of Trustees. She is a recipient of the Dean of Students Award. This summer, Nalani completed an internship at Sirius XM radio Real Jazz in New York City. She has also worked with engineer Gus Skinas in re-mastering some Blue Note Recordings to Super Audio CD. Painting was something that Nalani discovered quite young, when a neighborhood artist introduced her to the joy and freedom of the medium, and she was reminded of its ability to be a tool for raw expression when she took a painting class at William Paterson in the spring 2011 as one of her requirements for the Honors Independent Track. At that time, Nalani began to see the beautiful correlation between the art forms and decided to explore the creative source in which all art is born.
---
Spring 2010
Student Spotlight: Nick Bauter Discusses the Internship Process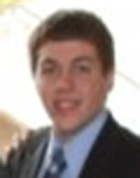 Nick Bauter
Nick Bauter, an Honors student majoring in Professional Sales and Management, has learned first-hand about the importance of internship opportunities. "If you are looking for a job after school, an internship is the best thing that you can do for yourself," said Bauter, who took advantage of the many resources available to William Paterson students.
His first step was to attend an internship orientation for business students that was run by Dr. Giuliana Andreopoulos, a professor in the Department of Economics, Finance, and Global Business. During the orientation, students learn a great deal of information about internships, and the various companies who regularly work with William Paterson students. The Sales Department at William Paterson also offers resources for internships. Each spring, the department hosts a job fair for students who are majoring in sales, and arranges for various companies to be present on campus to interview students.
Bauter also found the Career Development and Gloria S. Williams Advisement Center on campus to be a very helpful resource. The Career Development Center offers one-on-one meetings with career counselors, and also provides a service called WP Job Connect. Through this service, students are notified via email about various opportunities. It was through one of these email messages that Bauter learned about a career fair at Rutgers University.
He attended the job fair and was given the opportunity to circulate his resume and interview briefly with various companies. Through this event, Bauter was offered an internship with Sears. He is currently exploring internship opportunities with ADP.
Students who are interested in obtaining an internship can start by contacting the internship coordinator of their major department, or by contacting the Career Development Center located on the third floor of the Student Center. The most important thing, however, is taking that first step. "These opportunities will not just fall into your lap, you have to actively seek them out," said Bauter.
Student Spotlight: Studying Abroad with Brian Messenger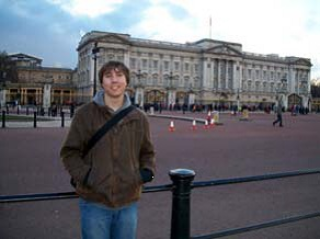 Brian Messenger
Brian Messenger, a sophomore Honors student, spent the Spring 2010 semester studying at the Leeds Metropolitan University in Leeds, England. Honors student Christina Freer recently interviewed Messenger to fin out more about his study-abroad experience.
Why did you want to study abroad? What led you to choose Leeds, England?
BM: I wanted to study abroad, basically, just to be abroad! There was no language barrier in England, so that narrowed my choices too. I chose to study in Leeds because it's fairly centrally located in England, has a large student population, and is very cost effective. All of the shops are always in competition to offer better deals. It's a nice city with good resources with cheap and easy access to public transportation. I can hop on a bus or train and get anywhere in England easily.
Was the application process difficult?
BM: The application process itself wasn't too painful. I needed to have letters of recommendation, write an essay, get a copy of my transcript, and fill out certain forms. The most tedious part was the preparation. I needed to apply for a passport, find accommodations, apply for loans and scholarships, make a detailed budget, get international health insurance, get an international phone, and pack, among other things. I also had to communicate a lot with faculty and administrators to make sure my affairs were in order. I did get stressed before leaving, but all of that disappeared once I got on the plane!
How are the classes and the workload?
BM: My workload wasn't nearly as bad as I expected. I didn't receive much information about classes before I arrived, So I didn't know what to expect at first. I was only allowed a maximum of 4 classes, and I registered for 3: 2 music classes, and 1 history class. I chose to take only 3 because I arranged with some of my professors at WPU to do an independent study while abroad. I was surprised by the workload. At Leeds Met, the grade only consisted of 2 or 3 assignments. This was almost too much pressure for me! This made me enjoy how the American system is run with more work to disperse the grade evenly. The system over here seems to put a lot mroe responsibility on the student, whereas America's system seems to be much more guided by the professor. But, it was interesting, and I learned a lot.
How has your experience been besides the academic aspect?
BM: I've had tons of great experiences! Class schedules are a little different outside of America, and students have a lot of liberty within their weekly schedule, so I was easily able to travel. Europe is very easy to travel around. Airlines are in constant competition, so I was able to find great bargains on flights for Easter break. In the two weeks I had break, I visited Ireland and Spain. I've also taken site-seeing bus tours around England. I visited London, [the original] York, Wales, Bath, Stonehenge and I may visit Scotland, depending on my budget. I didn't do too much travel because it is quite expensive with the currency ratio, but I made sure to include some funds for travel when I was planning my budget. Leeds attracts quite a large international crowd. I've met people from tons of countries, and I've also met awesome musicians. I'm glad I met those people so I could keep playing music while abroad.
---
PROFILE OF AN HONORS PROJECT:
Getting into Focus with Alex Chilowicz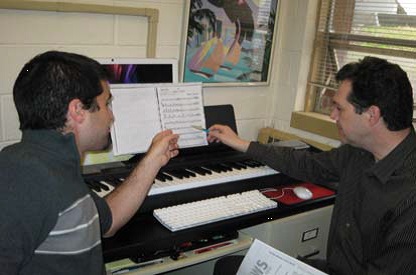 Alex Chilowicz and Professor/Conductor Richard DeRosa analyzing the Focus Suite
The awesome power of a string orchestra coupled with the cool strains of jazz tenor saxophone- a fusion of sounds even the most avid music enthusiast rarely encounters. However, students of William Paterson University and audience members will get the chance to hear just that on December 9th at 8:00pm in the Shea Center for the Performing Arts when saxophonist Alex Chilowicz, a senior in the Music Honors Track, will perform the unique masterpiece, the Focus Suite, with a string orchestra conducted by Professor Richard DeRosa.
The concert will be the result of four years of hard work, research, and investigation on the part of Mr. Chilowicz, who has been interested in the Focus Suite long before college. "I fell in love with Focus when I first started playing the saxophone, almost nine years ago," Alex recalled. "My first saxophone instructor, Sam Sadigursky (a William Paterson Music Honors Alum) introduced me to the piece, and I listened to it night after night for the next few months. There was something so unique about the musical color of the saxophone combined with the strings."
In his first year of college, Mr. Chilowicz, a graduate of Wayne Hills High School and a Presidential Scholar at William Paterson, entered the Music Honors Track under the direction of Dr. Jeffrey Kresky. When Alex first learned of the thesis project required of all students in the Honors tracks, he realized that a performance of Focus Suite would be an appropriate endeavor.
The Focus Suite is a seven-movement piece that composer Eddie Sauter wrote for the legendary saxophonist, Stan Getz, in 1961. The suite has a fully-composed score for the strings and percussion, but the lyrical saxophone playing heard on the original album is entirely improvised. At the end of his career, Mr. Getz claimed that Focus was his personal favorite of all his recordings. Focus is considered by many jazz historians to be one of the rare instances in record history (along with other classics such as George Gershwin's Rhapsody in Blue and Miles Davis' Miles Ahead) of classical and jazz elements being combined successfully to create an unusual style termed "Third-Stream" music, a phrase coined by composer and jazz historian Gunther Schuller.
Mr. Chilowicz began the process of preparing for his thesis project in his freshmen year. He sought out the original score and found that it was housed at the Eddie Sauter Archive at the Yale University Library. The original sheet music was very difficult to read, so the young saxophonist spent several dozen hours during the summer of 2009 listening to the original recording in order to accurately restore the handwritten music with the use of the Finale Music Notional Software. The Manhattan School of Music Jazz Philharmonic Orchestra then used the parts created by Mr. Chilowicz for a performance with world-renowned saxophonist and former William Paterson faculty member, Joe Lovano, at a concert in October. The concert was a smashing success and several members of the orchestra from that performance will be performing in Alex Chilowicz's December 9th recital, including the critically acclaimed concertmistress, Ms. Katie Thomas.
In an interview, Alex Chilowicz, explained the difficulties that he encountered trying to get this concert off the ground. "Since William Paterson no longer has a full orchestra, I realized that I would have to hire string players to assist me with this concert. Fortunately, a fellow Music Honors Track student, Theo Metz ('09), informed me of a program on campus that assisted him with funding for his Honors thesis presentation." That program, the Student Undergraduate Research Program (S.U.R.P.) "is designed to foster and reward outstanding intellectual inquiry and creative works by students who are enrolled in full-time study" (S.U.R.P. Mission Statement). Mr. Chilowicz applied for the grant in the Spring of '09 and received the maximum amount that can be awarded to an individual student ($2000).
Having restored the sheet music and acquired the funding to hire an orchestra, the William Paterson senior's next challenge will be to determine how to approach the performance of Focus. "It is going to be such a unique experience to improvise in front of a string orchestra as a jazz saxophonist," Mr. Chilowicz remarked. "The trick is going to be to find the 'holes' in the composition where I will be able to contribute original melodic material. Having spent so much time staring at the score, I have a good idea of where those spots will be." Another element that Chilowicz will have to take into account is how to create his own interpretation of Focus, having spent time listening to Stan Getz's rendition of the work. "When I get on stage, I'm not only going to be hearing the strings, but I will also be hearing Stan's improvisations in my head. The musical ideas Getz created spontaneously on the recording of Focus are as magical as the fully-composed piece itself. It's going to be difficult to try and do something completely different when Stan's solos are so ingrained in my ear; all I can do is try to be myself an allow Getz's tasteful musical decisions to influence my own."
In addition to his saxophone abilities, Alex Chilowicz will display his capacity for composition on the Shea Center's stage at the culminating date in December. As Chilowicz recounted, "after spending so much time studying Eddie Sauter's composition, I decided to take it upon myself to arrange some music for the performance. It was a complete rush when the orchestra used the parts that I restored for the Joe Lovano performance of Focus, and I think it will be even more exhilarating when I get to hear them play music that I have composed on my own."
Dr. David Demsey, Coordinator of Jazz Studies at William Paterson University and Mr. Chilowicz's Thesis Project Advisor, noted how many different aspects of the music industry that the project has allowed the 21 year-old to explore. "Not only is Alex getting to perform with an orchestra, but he also has gained valuable skills in key areas: research, copyist-work, hiring musicians, grant-writing, and composition."
The Focus project has opened the young musician up to new career possibilities following graduation. Alex says, "Writing parts for strings has been really rewarding, and as a result of my studies in composition and arranging with Professor Rich DeRosa, I have gained an interest in writing music for film and commercial purposes. I will be taking the new 'Composition for Media' course in the spring semester, and I intend to explore possible careers working with music and film after college."
---