Russ Berrie Institute for Professional Sales

---

IN THE NEWS
Success of the Russ Berrie Institute for Professional Sales,
Now Celebrating its 10th Anniversary, Featured on Caucus NJ Television Show

Click Here To Watch Video

Celebrating the Tenth Anniversary of the Russ Berrie Institute for Professional Sales:
Elevating the Profession of Sales

On a cold February Morning at 9 a.m., five students sharply dressed in dark blue and grey interview attire gather around a conference table in William Paterson University's Cotsakos College of Business. Each is waiting to be called for a fifteen-minute interview with a potential employer. The event is a two-day job fair for sales students held in the University's Russ Berrie Institute for Professional Sales at 1600 Valley Road. read more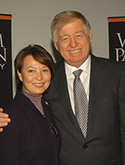 The late Russ Berrie with his wife Angelica Berrie,
who heads The Russell Berrie Foundation.
Chasing the close: WPU Hosts 7th National Sales Challenge

A group of people in suits and ties crowd around a conference table, studying live footage of nervous students in small rooms just down the hallway. The pressure and high stakes are real, but the undergraduates battling nerves to smile, nod and exude confidence were in the middle of a competition, and the group in the conference room was their judges. read more

William Paterson's Unique Sales Degree Program Highlighted By National Contest

Anyone who has ever worked in sales knows you have to have certain skills: You have to know your product or service. You have to know your audience, and you've got to be able to close.
All that is traditionally learned on the job, costing employers hundreds of thousands of dollars in new hire training.
William Paterson University is trying to change that. read more
Sales Education Foundation (SEF) Names William Paterson University In Top Global Sales programs For 2013.

The Dayton, Ohio based SEF, an independent not for profit organization that promoted sales education in universities across the globe named William Paterson University on top university sales program list. The Program, housed in the Cotsakos College of Business, is recognized for preparing and placing top talent in professional selling roles. The Sales Education Foundation (SEF) released the annual list of Top University Sales Programs, highlighting The Russ Berrie Institute for Professional Sales as one of the best locations for hiring sales professionals.
---

---