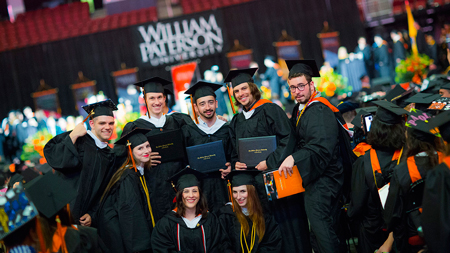 Commencement 2016
Commencement at William Paterson University is an important event for graduating students, family, and friends, as well as the faculty and staff. The ceremony provides an opportunity for the entire University to celebrate the achievements and successful conclusion of a higher education degree.
The commencement ceremony is a formal celebration steeped in academic ritual and the traditions of the University complete with procession, academic regalia, and other elements of pageantry. Personal attention takes center stage as each graduate is individually recognized.
This year's ceremonies will be held as follows:
Graduate Ceremony (master's and doctoral degrees)
Wednesday, May 18, 2016 • 7:00 pm • Shea Center
Tickets are required
Undergraduate Ceremony (bachelor's degrees)
Friday, May 20, 2016 • 9:00 am • Prudential Center, Newark
Tickets are NOT required
Other Important Dates:
Senior Portraits for the 2016 "Pioneer" Yearbook
Senior Portraits will be taken on the following dates:
Monday to Friday, November 9 to 13, 2015
Monday to Friday, February 15 to 19, 2016
Monday to Friday, April 4 to 8, 2016
Schedule your appointment at www.ouryear.com, entering school code 237 or by calling 1-800-OUR-YEAR (687-9327) during normal business hours.
Please note there is a $30 sitting fee for Senior Portraits and with this fee you will receive a complimentary yearbook. Yearbooks will be mailed out in October 2016.
Pioneer Salute
Tuesday, April 12, 2016 • Wednesday, April 13, 2016
9:00 am – 7:00 pm both days
University Commons Ballroom A & B