Lesson Study: About
What is Lesson Study?
Lesson study , called jyugyokenkyu in Japanese, is a process of professional learning that Japanese teachers engage in continuously throughout their careers to examine systematically their instructional methods, teaching content and curriculum, as well as their students' processes of learning and understanding in order to achieve their educational goals. One of the key features of lesson study is that teachers collaboratively study instructional materials and design a small number of research lessons that are implemented in actual classrooms with students. These research lessons are observed and discussed with teacher-colleagues and other educators to determine the effects of the lessons on student learning and understanding. This practice of lesson study has a long history in Japan. As a consequence, recent research on the instructional style of classroom teaching in Japan shows a significant shift from "teaching as telling" to "teaching for understanding" (Lewis & Tsuchida, 1998; Stigler & Hiebert, 1999; Yoshida, 1999).
Why Lesson Study?
The goals of lesson study are to foster a commitment to continuous improvement on instruction, student learning, and schooling and respond to the needs of the students in a more directed individualized way.
School practicing lesson study build a capacity to implement strategies and practices that result in students achieving at a higher level.
Teachers work in teams to study instructional materials and develop research lesson that are implemented in actual classrooms.
These research lessons are observed and discussed with colleagues and other educators to determine the effects of the lessons on the students' learning, understanding and achievement. There is a continuous process of analyzing and improving classroom practice.
Lesson Study cycle
After teachers establish a lesson study goal, the teachers specify the subject areas in which they will investigate it (e.g., mathematics, science, etc.). Then the teachers will be divided into some subsets as teams or groups (e.g., grade level teams or subject area teams) and will engage in a lesson study cycle. (See Figure below)
These teams are also often called research lesson writing teams. It is often said that an effective size for a team is 4 to 6 people. Each team discusses and chooses an appropriate topic by considering the current state of student learning. After the teams decide on the topic, a team of teachers engages in a lesson study cycle to develop, implement, observe, and reflect on a research lesson. Firstly, the team investigates instructional materials such as textbooks, teachers' manuals, state standards, manipulatives, etc. This process is called kyozaikenkyu in Japanese. Then, a unit plan is developed and a detailed lesson plan is created. Secondly, the research lesson is taught by one of the team while the others observe the lesson and collect data. Thirdly, after observing the lesson the team engages in a post-lesson discussion to determine the effect of the lesson on student learning and understanding. The insights gained from the discussion are often incorporated into a revision of lesson. Fourthly, the revised research lesson is implemented in a different classroom and observed by the team members. Finally, the team engages in another post-lesson discussion and compiles all the results gained from the lesson study cycle experiences in order to write a detailed report.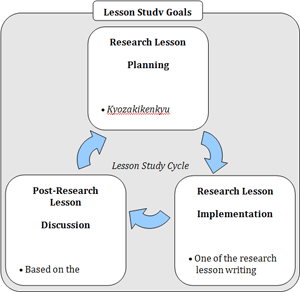 Lesson Study technical terms
Lesson Study Cycle
Research Lesson
Kyozaikenkyu
Bansho
Hatumon
Kikanjunshi