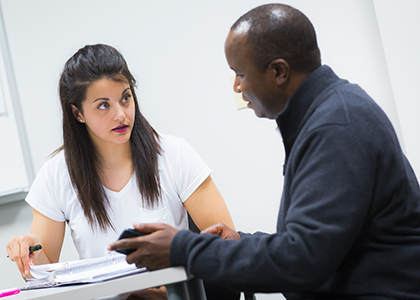 The Cotsakos College of Business Writing & Tutoring Center is located at the Valley Road Campus in room 3048 and is here to assist students with Writing, Accounting, Economics, Business Statistics, Corporate Finance and Product/Operation Management. For assistance with other courses, please visit the Academic Success Center. All of our tutors are upper division or MBA students with demonstrated expertise in one or more of these subjects and can assist with:
One-to-One tutoring
Study Group Facilitation
Support and Encouragement
Come in with your study group or do your homework independently with the assurance that there is somebody available to assist if you need help.
The Writing Center @ Valley Road
The Writing Center @ Valley Road provides one-on-one tutoring for anyone in the university community working on any kind of writing in any stage of development. Tutorial sessions typically take thirty minutes to an hour. We work with you on writing issues such as outlining, thesis clarification, organization, style, transitions, citing, and grammar, and we help you learn how to edit and proofread your own writing. Our aim is not just to produce a better piece of writing; it's to produce a better writer.
Librarian Help @ Valley Road!
Get in-person assistance with research assignments every Thursday from 1:30 - 5:00 in Valley Road Room 3044! If you can't make it during our Valley Road hours, you can call the library reference desk at (973) 720-2116. Live chat is also available 24/7 over the web at the library's HOME PAGE and click "Chat with Us."
Career Development Center Office Hours @ Valley Road

An important part of the Professional Enrichment 2.0 program is the Career Development Component. This requirement will allow students to participate in guided activities and experiences that will teach them how to develop the necessary skills in order to navigate their professional career development process.
Starting in September 2017, the Career Development Center has office hours available in Valley Road Room 3044 every Monday afternoon from 1:00 - 4:30. To schedule an appointment, call the Career Development Center at (973) 720-3291 and ask to schedule your appointment at Valley Road.
What tutors CAN do:
Help with:
Managerial & Financial Accounting
Business Statistics
Macro & Micro Economics
Corporate Finance
Most MBA Lower Core / MBA Pathway courses.
Reinforce class concepts (Examples: Supply and Demand, Financial Statements, etc.)
GENERAL QUESTIONS about homework. Come prepared with your book so we can find a similar problem to work on from the book.
Go over in class assignments or assignments that are ALREADY GRADED.
What tutors CANNOT do:
Help with most upper division classes (unless listed above). Please contact your course instructor if you are having difficulty in these classes.
Help with MBA Upper Core and Concentration courses.
Help with online homework or take-home exams/quizzes.
Specific questions from the homework.
Crash reviews before exams! These types of classes are very different from the classes you took in high school. They require skills that are developed through practice and understanding.
---
When you visit the Writing & Tutoring Center, please bring the following with you:
Student ID
Your Text Book and Class Notes: We need to see what your professor went over in class.
Positive Mental Attitude: Come focused and ready to learn.