William Paterson University Students in Unusual Multidisciplinary Course Visit New Orleans for Community Service and Interactions with Historians, Activists and Documentarians
--Spring break trip is crucial component of course that meets University's unique three-credit requirement in community and civic engagement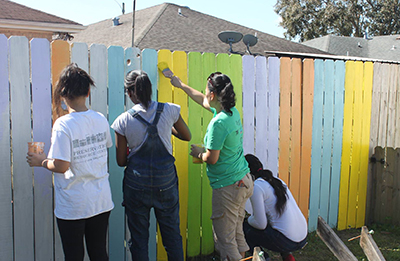 Twelve William Paterson University students will travel to New Orleans for a service learning experience during spring break from March 12 to 19 as part of a unique new multidisciplinary course focused on the city and its culture before and after Hurricane Katrina.
The course, Hurricane and Rebirth: New Orleans Before and After Katrina, examines the pre- and post-Katrina culture of the city, with an emphasis on recovery efforts after the storm. Taught by English professor James Mellis, the course combines elements from academic disciplines such as English, sociology, political science, geography, and urban studies. It is also the first University course with a study trip component that counts towards the William Paterson three-credit graduation requirement in community and civic engagement.
During the trip, students will be hosted by the Center for Ethical Living and Civic Justice Renewal. They will participate in rebuilding a home and a community clean-up, visit numerous cultural institutions, and attend lectures by historians, community activists, musicians and documentarians. Students will be required to keep a journal and to write a research paper on a New Orleans- or Hurricane Katrina-based topic.
Mellis had just completed his doctorate at Tulane University in New Orleans when Hurricane Katrina hit in 2005. "Like millions of others, I watched in horror and despair at the damage the storm caused, as well as the agonizingly slow response from local, state, and federal authorities," he says. "Ten years later, the effects of the storm still reverberate in many communities. This course is an opportunity to introduce William Paterson students to the city and the challenges that both the storm and the rebuilding efforts brought to bear."
All William Paterson University are required to take a three-credit course in community and civic engagement for graduation. The University is the first and only among the state's colleges and universities with such a mandate.
# # #