Library Conducts Used Book Sale
Cheng Library book sale attracts campus readers.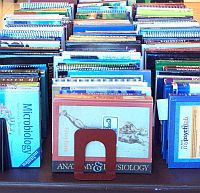 Textbooks are popular purchases at the book sale.
The Cheng Library recently concluded a successful, three-day, used book sale. The Library's book sale has become an established tradition of both the Library and the University. This event was the fourth major used book sale held by the Cheng Library. The sale took place in the Multi-Purpose Room of the Student Center on October 9-11, 2012.
For the past eighteen months and since the last sale, the Library staff had accumulated and sorted thousands of donated books. Over the course of the year, many books donated to the Library are added to the circulating collection, but those which are not academic or are already in the collection are saved for the sale. Books destined for the sale were arranged by subject categories and stored in boxes to await the sale.
The day before the sale, Library staff unpacked 310 boxes of books on all subjects. Many of the titles included books on history, literature, art, sociology, psychology, biology, and music. The sale also included many children's books as well as books on popular subjects like cooking and travel. A small selection of CDs and videocassettes was also available for purchase.
Proceeds from the book sale will be spent on purchases for the Library to benefit the students but are items that are typically outside the Library budget. This year, the sale generated a total of $3,325, including over $700 debited from Pioneer Express cards. Several ideas for purchases are being considered based on students' requests.
A fair number of books remained after the sale, but even these books will be appreciated by the recipients. Several boxes of children's books were taken by a student chapter of the United Way, and the remaining books were picked up by Professor Muroki Mwaura and donated to a community college in Nairobi.
December 05, 2012