Anne Ciliberti, Dean of Library Services, Plans Retirement
Anne Ciliberti plans to retire at the end of the academic year.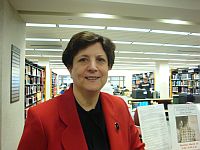 Dr. Anne Ciliberti in the reference area of the Cheng Library
Dr. Anne Ciliberti, Dean of Library Services, will be retiring July 1, 2014 following a 33 year career at William Paterson University. In the years since Anne first arrived at William Paterson College she has seen incredible change in the institution, including new buildings, an expanded and diversified curriculum, the increase and expansion of technology, and exponential growth in faculty and staff to name just a few of the most obvious developments.
However, from the library perspective, Anne identifies four significant highlights. She points to the attainment of University status in 1997 for its recognition of graduate education and faculty research; to the creation of VALE, New Jersey's academic library consortium for its work in making scholarly information more available and more affordable; to the University's investment in technology for the advancement of teaching and learning; and to the University's commitment to re-establish an archive of documents, reports and memorabilia pertaining to its rich history.
While the impact of these changes on the Library's ability to provide academic resources and services has been far-reaching, Ciliberti is quick to recognize that one constant over the years has been, and will continue to be, the excellence of the library staff. She describes them as a team dedicated to the highest professional standards and deeply committed to serving the University community.
Anne's career at the University began in 1975 with her appointment as a reference librarian. She was appointed Associate Director for Reader Services in 1980 and continued to provide leadership for the public service staff in that capacity until 1987 when she resigned to relocate with her family to the Washington, D.C. area.
In 1992, Anne was selected from a national pool of candidates and returned to William Paterson as the Collection Development Librarian. In 2001, following a national search, she was appointed to the position of Library Director, and in 2011, this position was changed to Dean of Library Services.
During her tenure at the University, Dean Ciliberti was active both on campus and in several statewide and national organizations. Her campus service includes seven years as a member of the Faculty Senate, active contributor to two decennial Middle States self-studies and chairmanship of several campus-wide search committees.
On a regional level, Ciliberti served for many years as a member of the executive board of the New Jersey Library Association as well as three regional library organizations. Her contributions nationally include service on the editorial board of the journal, College and Undergraduate Libraries and membership on an American Library Association committee on research for college librarianship.
Most notably, however, Dean Ciliberti's legacy will be her role in helping to establish VALE, the Virtual Academic Library Environment of New Jersey. Now in its 16th year and boasting 53 institutional members statewide, VALE has become a major influence in helping the state's college and university libraries acquire and make available electronic journals and databases at more affordable prices and with favorable terms from dozens of publishers and distributors.
The consortium now provides collaborative opportunities and professional networking for virtually all aspects of academic librarianship, such as cataloging, resource sharing, cooperative collection management, electronic resource licensing and information literacy.
The annual VALE Users' Conference regularly draws 300 college and university librarians from around the state for a day-long event showcasing dozens of poster sessions and breakout presentations.
Dr. Ciliberti's retirement plans include spending time with her family, traveling and exploring volunteer opportunities. At the top of her volunteer list is the desire to become a literacy volunteer at the Paterson Public Library. As she commented, "What better way for a librarian to give back to her community than by teaching others to read!"
February 24, 2014