Mark Pawlak Joins the Lending Services Department
Mark Pawlak joins the Lending Services Department as Principal Library Assistant.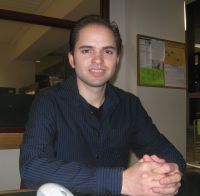 Mark Pawlak joined the Cheng Library staff as the new Principal Library Assistant in Lending Services on August 6, 2012. However, prior to August, Mark had been working in the Library in several positions for two years, starting as a student assistant in June 2010. After graduating from William Paterson in May 2011, Mark was hired as a part-time circulation clerk, where he worked until taking on the new position.
Mark is originally from Pittsburgh, but currently resides in Fair Lawn. He was drawn to William Paterson University because of its excellent music program, friendly campus environment, and exciting location. Mark was a Presidential Scholarship recipient and holds a B.M. in Sound Engineering Arts. As the new Stacks Coordinator, he is responsible for supervising and assisting with the maintenance and organization of the second floor circulating collection. A large part of this responsibility consists in training and working with the Cheng Library's student assistants who complete tasks such as shelving, shelf-reading, and shelf maintenance. Mark also helps with the general circulation duties in Lending Services and has recently joined the Library's Exhibits Committee.
In his free time, Mark likes to explore his musical side by performing, listening to, and recording music. He also enjoys activities such as hiking, reading, and visiting New York City.
November 29, 2012