Nancy Weiner Appointed Assistant Director for Access and Information Services
Nancy Weiner assumes position of Assistant Director for Access and Information Services at the Cheng Library.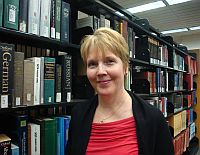 Nancy Weiner in the Cheng Library
Following a national search during the fall semester, Nancy Weiner was appointed Assistant Director for Access and Information Services at the Cheng Library. Nancy succeeds Kathy Malanga who retired as of January 1, 2014.
Nancy Weiner has been a member of the Access and Information Services unit at Cheng Library since 2002. Initially hired as a reference librarian with responsibility for distance education, Nancy assumed the position of Coordinator of User Education in 2004.
In this capacity, Nancy was primarily responsible for providing reference assistance and conducting library instruction sessions for students. She has also developed a variety of methods to assess student learning at the Cheng Library.
For a number of years, Nancy also worked with the Office of First Year Experience to develop the library component for First Year Seminar classes. Nancy has been active on a number of library committees, and has served on numerous University committees as well. She continues to serve on the University Core Curriculum Council and the Common Reader Selection Committee.
Active in professional organizations, Nancy has served two terms as secretary on the New Jersey Library Association (NJLA) Executive Board and two terms as chair of the NJLA College and University Section User Education Committee. She is currently Vice President/President Elect of the NJ Chapter of the Association of College and Research Libraries (ACRL) and Chair of ACRL's Division Level Section Membership Committee.
Anne Ciliberti, Dean of Library Services, commented, "We are thrilled to have Nancy Weiner assume the responsibilities of Assistant Director for AIS at the Cheng Library. She is an excellent and visionary library leader which, combined with her knowledge of the University, will ensure her success in developing and delivering superior services to the campus community."
In her new role, Nancy Weiner hopes to contribute to the previous achievements of the Cheng Library while focusing on assessment efforts and expanding Library support for the University's online classes.
Nancy commented, "I am happy to be selected as the new assistant director. I enjoy working with the staff at the Cheng Library and am looking forward to formulating a few fundamental initiatives in the near future."
February 24, 2014