Your William Paterson ID Card is your Pioneer Express Card!
It's the convenient, cashless way to pay for your purchases both ON and OFF campus. To use it, simply deposit funds into your Pioneer Express account Just like a debit card, your balance will decrease with each purchase you make.
Setting up your Pioneer Express Account has never been easier!
1. Secure Online Management and Deposit
(click the logo that best describes your device)
2. In Person
Visit our office in University Commons, Room 100.

If your looking to use

CASH we offer 2 VTM's. Library @ Friends Lounge, Student Center @ Main Lobby
3. By Mail
William Paterson University
Attn: Hospitality Services
University Commons RM 100
300 Pompton Road
Wayne, NJ 07470
4. By Phone
Call (973) 720-6200 have VISA/MC/Discover/American Express credit card number ready along with the student (banner) number.
There is a $1.00 convenience charge for each credit card transaction while adding funds via Get Funds Online.
Attention Employees!
---
Other key features of Get Funds for Pioneer Express:
Deactivating lost ID Cards

Account balances for Meal Plan & Pioneer Express

Transaction history

Requesting funds from family & friends

Online Menu ordering for participating merchants
There are no fees associated with PIONEER EXPRESS transactions; however, unlike an ATM, PIONEER EXPRESS funds are not available for cash withdrawal.
---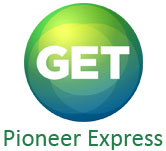 What is GET Funds for Pioneer Express?

GET Funds is a website where Pioneer Express account holders can view and/or manage their multiple funded campus card accounts. It provides valuable information about account balances and spending history, while enabling deposits using a debit or credit card.

GET Funds is always on, so that when a student discovers they are out of money at 10 pm at night, a love one can deposit funds, via GET Funds. Your Pioneer Express account is replenished and ready for food and/or supply purchases once again!
Has your card been lost or stolen? NO PROBLEM! You have complete control to deactivate your ID Card.
Try our latest "Online Menu Ordering" called GET Foods! - Look for our participating merchants.