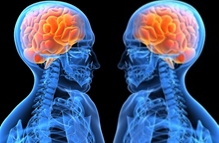 The Clinical Psychology and Neuropsychology Honors Track offers you advanced knowledge in both brain-behavior relationships, and training in clinical skills and Interventions as well as Mentoring in conducting research using state of-the-art facilities.
The track is particularly relevant to students interested in:
clinical psychology
neuropsychology
cognitive neuroscience
brain-behavior relationships
understanding neurologic and neuropsychiatric disorders
disorders of communication
health care and wellness
implicit processes
cognition and awareness
personality
cognition and physiology
neurologic and philosophical perspectives on awareness and consciousness
The track culminates in a research thesis that is developed in collaboration with faculty member. Examples of research projects and topics include: neurodevelopmental disorders, meditation, autism, information processing in the bilingual brain, memory and executive function in healthy and in clinical populations, depression/anxiety ADHD, gaming, novelty and sensation seeking and art therapy. For the next project…..Use your imagination.
Description: What is Unique About this Program
This track emphasizes the development of basic and clinical knowledge and skills under the mentoring of licensed clinicians as well as the development of research competencies. The track provides a foundation for enhancing your understanding of core concepts and models of human function and dysfunction, mechanisms underlying various disorders, assessment procedures, and treatment techniques and interventions.
Why Apply to the "Clinical Psychology and Neuropsychology Honors Track"
research opportunities in laboratory and/or community-based settings
clinical training and experience in a clinical teaching suite.
mentoring in all phases o the research process (e.g., writing, statistics and methodology).
opportunities to publish, present and participate in regional and national conferences.
peer support from talented and motivated students
faculty-student interactions and professional mentoring that will provide a competitive advantage for gaining admission to graduate and professional schools
honors designation on diploma/transcripts
Special Resources and Opportunities
research opportunities in laboratories and/or community-based settings
clinical training skills provided in a new clinical teaching suite with audio-video monitoring capabilities.
testing room with extensive assessment material and media
Entrance Requirements
Minimum Overall Grade Point Average: 3.25
Personal Statement
Major: Flexible with appropriate background
Summary of Courses
Clinical Psychology & Neuropsychology Track

Credits

Twelve Credits

Fall

Intro to Counseling & Psychotherapy (4100)

Psychopharmacology (Psy 4150)

Spring

Human Neuropsychology & Cognitive Neuroscience (CLSI 4950)

Psychological Testing (Psy 3100)

___________________________

YEAR II: Six Credits

Clinical Science Thesis I (3) CLSI 4040

Clinical Science Thesis II (3) CLSI 4050

3

3

3

3

3

3

TOTAL Program Credits

18

Pre-requisites or Co-Req

Bio 1140 or Bio 1200 or equivalent

Psy 2030 (4) or equivalent (complete before thesis work).

Psy 3510 or 3500 (3) or equivalent for Psy 4100
*Depending on your interests course substitution is possible. Completion of the track can help fulfill a minor in Psychology
For more INFORMATION:
E-mail: diamondb@wpunj.edu
Office: Science Hall, Room 2462B
Phone: (973) 720-3400
Director of the Honors Track
Bruce J. Diamond, M.Ed., Ph.D.
B.A. The Ohio State University, Columbus, Ohio
M.Ed. Smith College, Northampton, MA
Ph.D. University of Manchester, Manchester, UK
Licensed Neuropsychologist (NJ)
Specializes in clinical neuropsychology, neurorehabilitation and cognitive neuroscience. His research paper-pencil, computer-based measures and brain imaging/ autonomic techniques in order to examine memory, executive function, attention, information processing and mood in clinical (organic brain disorders) and healthy populations. A practicing clinician, he has published extensively and presented at numerous national and international conferences.
For additional information on research and research assistantship opportunities follow link below or paste in browser:
http://www.wpunj.edu/cohss/departments/psychology/faculty/diamond/diamond.dot