Department of Political Science
Christine Kelly
Office: Raubinger 441
Phone: 973-720-3430
Email:kellyc@wpunj.edu
Office Hours: Fall 2016: Tues. & Thurs., 12:30-2:30 pm (except 1 Tues per month 2:00- 3:30 pm -- email to check!); Wed 3-4:00 pm. By appointment: Skype for online students if needed

Department: Political Science
Area Specialization: Political and social theory, political and social movements, American institutions, civic engagement, education policy, media policy, labor and gender politics

"Generation Threat: Why the Youth of America Are Occupying the Nation," Logos, Vol.10, Issue 4, 2011.
Professor Kelly interviewed on NJTV about young people and the 'Occupy' movement, Oct. 13, 2011.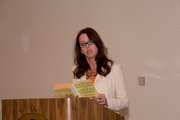 CHRISTINE KELLY earned her Ph.D. in Political Theory from Rutgers University in 1996, with minors in American Politics and Women in Politics. Her research and teaching cover a unique intersection of political and social theory in the context of U.S. institutions, politics and culture. Her courses here at William Paterson include various courses in Political Theory, Politics of U.S. Education, American Government, Politics and the Media, Politics of Labor Movements, and Civic Engagement.
Professor Kelly is currently serving as the Director of the American Democracy Project here on campus, which is located in Raubinger 442. This national project seeks to raise the civic and political participation levels of students attending public institutions of higher education in the United States.
Professor Kelly has an active research agenda and professional life. Her publications include: Tangled Up in Red, White, and Blue: New Social Movements in America (Rowman & Littlefield, 2001), and numerous articles and book reviews. She is currently completing her second book Chimes of Freedom: Student Protest and the Changing American University (Rowman & Littlefield). Her research agenda includes an emerging manuscript, "American Dissident Thought."
She is an active member of the American Political Science Association (APSA), and is now serving her second elected term as Co-Chair of the New Political Science Section. Her service in the Association is extensive and includes co-founding the APSA Labor Project. In 2005 she received an APSA Presidential appointment to serve on the Carey McWilliams Award Committee for best journalistic contribution to understanding politics. Professor Kelly serves on the Editorial Boards of two peer-reviewed journals -- New Political Science: A journal of politics and culture and Labor and Social Policy. She is an Editorial Board member of the book series Contemporary Issues and American Political Theory with the University Press of Kentucky.
Most of all, Professor Kelly loves teaching.