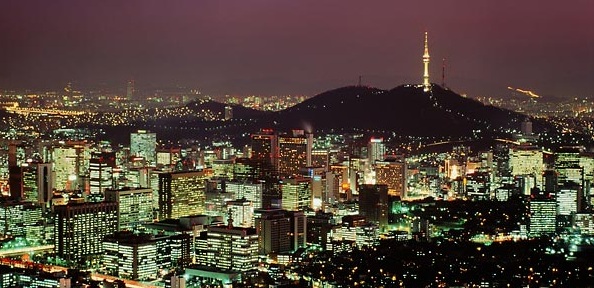 Summary of Key Activities:
28-day stay in South Korea
Total hours of language lessons: 40 hours (Average 10 hours/week)
Number of academic seminars/lectures: 7 (Themes: Korea's history and society, education, global trade/economy, environmentalism)
Field trips to over 30 sites (i.e., museums, archeological sites, historical villages, festival/performances, government or research agencies, schools)
Weekly reflection will be held throughout the trip.
Cultural immersion experiences are integrated throughout the stay as indicated below.
The intended Group Projects Abroad locations are shown on a map of South Korea.
Proposed Daily Itinerary (2014)
This is a tentative schedule.
Day

Date

City

Activities

Theme

Leave NJ

Mo. 7/7

New Jersey

Leave for Seoul, South Korea

Day 1

Tu. 7/8

Seoul

-- Organizational meeting: Overview of the Agenda, Objectives, Safety Rules, Local Information. Overview of the City.

-- Language lessons

Site Orientation

Day 2

We. 7/9

Seoul

-- Language lessons

-- Visit Landmarks in the city (e.g., Gangnam district, Myeongdong, Yeoui-do National Assembly)

-- Evening Seminar (Program Directors)

Korea Today: An overview of South Korea's geography, people, and contemporary social system.

Korea's contemporary culture and society

Day 3

Th. 7/10

Seoul

(Bus trip to Daegu and Sejong City)

-- Visit the Korea Education & Research Information Service (KERIS) (Daegu) for a seminar and Chamsam School in Sejong city (SMART Education model school)

-- Language lessons

Educational Technology

Day 4

Fr. 7/11

Seoul

-- Visit the Korean Institute for Curriculum and Evaluation (KICE) for a seminar

-- Visit Itaewon school for the SMART Education model school

-- Lecture: "The Characteristics and Challenges of Korean Education" by Dr. Wongu Park

-- Language lessons

Korean educational system and the national curriculum standards

Education in Comparative Perspectives

Day 5

Sa. 7/12

Seoul

-- Language lessons

-- Guided Visit of The National Museum of Korea

--Visit to Korean families

Korean History

Korean culture (family and kinship norms)

Urban recycling.

Day 6

Su. 7/13

Seoul

Free Time (Sunday)

(Explore markets, food, parks of the city Practice Korean)

Cultural Immersion

City revitalization projects

Day 7

Mo. 7/14

Seoul

-- Language lessons

-- Visit Gyeonbokgung Palace, Jongmyo, and Insadong

-- Lecture: "History of Joseon Period" by Dr. Jinoh Ju (Professor of History, Sangmyung University)

-- Reflection session

History (Joseon period and Confucian culture)

Day 8

Tu. 7/15

Seoul

(Bus trip to Demilitarized Zone)

-- Language lessons

-- Visit Imjingak and DMZ

-- Visit Ansan Multiculture/foreigner District

History (Modern Korea and the Korean War)

Contemporary Immigration to South Korea

Day 9

We. 7/16

Seoul

-- Language lessons

-- The Korean War Museum

-- Lecture: "Security, Peace, and Reunification in the Korean Peninsula" by Dr. Philo Kim (Professor, Institute for Peace and Reunification Studies at Seoul National University)

Security, Peace, Korea-US relations,

War and Human Rights

Day 10

Th. 7/17

Gyeongju

--Transport to Gyeongju (3.5 hours) via Andong. Guided visit of Confucian schools and landmark houses of aristocrats of the Joseon period (Dosan Seowon, Sosu Seowon, Gunja Maeul)

-- Cheomsung Observatory

Cultural Immersion

History (Confucianism, caste system of Joseon period)

History (Buddhism, science in Shilla period)

Day 11

Fri

7/18

Gyeongju

-- Visit The National Museum of Gyeongju, and royal tombs of the Shilla period

History (The culture and society of the united Shilla period)

Day 12

Sa. 7/19

Gyeongju

--- Visit Seokguram Grotto and Bulguksa Temple

Buddhist arts

Day 13

Su

7/20

Busan

-- Transport to Busan (1 ½ hour)

-- Nakdong River Estuary Eco Center/Park

Environmentalism (Conservation of wetland animals, river revitalization projects)

Day 14

Mo. 7/21

Busan

-- Visit traditional market, Gamcheon Culture-Village, Busan Modern History Museum, Haewondae APEC house

History (Colonization, trade/exchanges with Japan, the Korean War)

Day 15

Tu.

7/22

Seoul

-- Transport to Seoul (4 ½ hours)

-- Lecture: "Globalization and Korea" by Dr. Heungchong Kim (Director of Research Planning, Korea Institute for International Economic Policy)

-- Reflection session

Global economy and South Korea

Day 16

We.

7/23

Seoul

-- Language lessons

- Cultural Immersion (Traditional clothing, games, food)

-- Transport to Gongju (2.5 hours) via city of Cheonan

--Guided tour of Cheonan Independence Museum

Cultural Immersion



History (Japanese expansion and colonialism, independence movement, World War II)

Day 17

Th. 7/24

Gongju

-- Language lessons

-- Visit Gongju Museum and royal tombs

-- Cultural immersion activities (archery, tea ceremony, traditional music)

History (Baekje period and Buddhist culture)

Day 18

Fr. 7/25

Gongju

-- Language lessons

-- Visit Gyeoryeong pottery village

-- Cultural immersion (pottery-making, cooking)

-- Local festivals or farmers' markets

Cultural Immersion

Day 19

Sa. 7/26

Gongju

-- Language lessons

-- Visit Buyeo National Museum

-- Visit farming villages

History (Baekje period)

Cultural Immersion

Day 20

Su. 7/27

Gongju

- Free Time (Sunday)

-- Conversation with Korean in-service and pre-service teachers: "Teaching about Korea to the U.S. audience"

-- Reflection session

History

Cultural Immersion

Education (Teaching about Korea)

Day 21

Mo. 7/28

Gongju

-- Language lessons

-- Transport to Gwangju (2.5 hrs) via Jeonju and Koch'ang Dolmen site (UNESCO World Heritage)

Cultural Immersion (Archeology, architecture & food)

Day 22

Tu. 7/29

Gwangju

-- Language lsssons

-- Visit May 18th Memorial and May 18th Museum at Jeonnam University

-- Group discussion on Korea's democratic movements, and student movements (Program directors)

-- Reflection session

History Democratization

Student Movement

Social Change

Day 23

We. 7/30

Gwangju

-- Language lessons

-- Visit to an organic farming village

-- Conversations with NGO members and local activists. "Environmentalism in South Korea"

Environmentalism. Sustainable and organic farming movement

Day 24

Th. 7/31

Haenam

-- Transport to Haenam (2.5 hours) via Gangjin Celadon Festival

--Temple stay program (Tea ceremony, meditation, temple food, Buddhist arts)

-- Language practice

Cultural immersion Temple stay

Day 25

Fr. 8/1

Haenam

-- Temple stay program (Tea ceremony, meditation, temple food, Buddhist arts)

-- Language practice

Cultural Immersion

Day 26

Sa. 8/2

Haenam

-- Nagan Traditional Village (living village)

--Transport to Seoul (3.5 hrs.)

History (Everyday life of peasants in Joseon period)

Cultural Immersion

Day 27

Su. 8/3

Seoul

-- Free Time (Sunday)

(Visit bookstores and education supply store, shopping for souvenirs)

-- Home visits

-- Prepare to leave

Day 28

Mo. 8/4

Seoul

-- Morning Reflection Session

-- Departure for New Jersey, USA

NJ

Arrival

Tu. 8/5

New Jersey

-- Finalizing the trip and reviewing the post-trip activities