William Paterson University President Kathleen Waldron Honored by Executive Women of New Jersey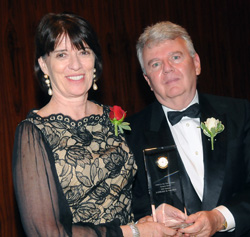 Kathleen Waldron, president, and Vincent Mazzola, chair, William Paterson Board of Trustees
William Paterson University President Kathleen Waldron was among the honorees by the Executive Women of New Jersey (EWNJ) at its "Salute to the Policy Makers" 2012 Awards Dinner on May 17 at the Hyatt Regency in New Brunswick, NJ. Vincent Mazzola, chair of the William Paterson University Board of Trustees and a 1973 graduate of the University, presented the award to President Waldron.
This year, EWNJ paid tribute to 36 women for their professional achievements as members of boards of directors or as senior executives at major corporations and organizations based in New Jersey. The proceeds from the dinner are used to fund, among other programs, EWNJ's Graduate Merit Award Program, which has provided more than $1.1 million in scholarships at the graduate school level to deserving New Jersey women since 1986.
Dr. Waldron became the seventh president of William Paterson University in August 2010. One of the largest public universities in New Jersey with more than 11,000 undergraduate and graduate students, the University offers more than 250 programs and has extensive connections with universities in China, Scotland, Japan and Europe. Dr. Waldron has more than 15 years of experience in higher education and 17 years experience in international banking. She previously served as president of Baruch College of the City University of New York and as dean of the College of Business at Long Island University after beginning her academic career as an assistant professor of Latin American history at Bowdoin College. Prior to her transition to higher education administration, Dr. Waldron worked at Citibank for 14 years where she directed strategic planning for the Global Private Bank and served as president of Citibank International in Miami.
# # #
06/25/12