Bucky Pizzarelli and Ed Laub to Perform on Jazz Room Series on February 24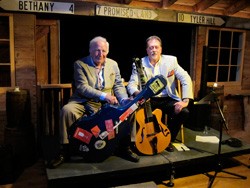 Guitar legend Bucky Pizzarelli will perform with Ed Laub as part of the spring 2013 Jazz Room Series at William Paterson University in Wayne on Sunday, February 24, 2013 at 4 p.m. in the Shea Center for Performing Arts on campus. The acclaimed Sunday afternoon concert series is currently celebrating its 35th anniversary season.
Prior to the concert, Pizzarelli and Laub will be the guests for "Sittin' In," an informal discussion about jazz, at 3 p.m. in Shea Center. Admission is free to all Jazz Room ticket holders. Tickets are available at the Shea Center Box Office in advance at 973.720.2371 or wp-presents.org, or on the day of the performance at $15 general; $12 senior citizens, William Paterson faculty, staff and alumni; and $8 for non-William Paterson students. William Paterson students may attend free of charge with valid ID.
Bucky Pizzarelli, a native son of Paterson, N.J., is one of the cornerstones of the city's long jazz history. He was among the first faculty hired for William Paterson's jazz studies program. Since that time, he has maintained a long association with the Jazz Room series. Pizzarelli's career has included associations with the NBC Tonight Show band, with Benny Goodman, several concerts at the White House for Presidents Reagan and Clinton, and with such guitar luminaries as Les Paul, Tal Farlow, and, more recently, his sons John and Martin. He has also received numerous honorable rewards throughout his illustrious career including a Mac Lifetime Achievement Award and his induction into the New Jersey Hall of Fame in 2011. He returns to the Shea Center stage to perform with bassist and longtime manager Ed Laub.
Launched in 1978, the Jazz Room is one of the largest and most prestigious college-sponsored jazz events in the country. Performers include renowned professionals who encompass the complete spectrum of jazz, as well as William Paterson's own student ensembles. The series has won numerous grants from the New Jersey State Council on the Arts for its innovative programming.
# # #
02/19/13