William Paterson University Galleries Present Mexican and Mexican-American Art That Combines the Traditional and the Cutting Edge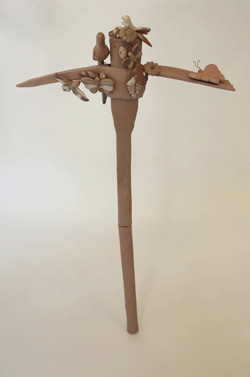 Margarita Cabrera, "Pico (Pick)," 2008
Mexican and Mexican-American artists contrast the traditional with the cutting edge AND the high-brow with the low-brow in "Mexicanisimo Through Artists' Eyes," on view at the William Paterson University Galleries from November 11 through December 14, 2012. Gallery hours are Monday through Friday from 10 a.m. to 5 p.m. and on November 18, December 2 and December 9 from noon to 4 p.m. Admission is free. An opening reception for the exhibition will be held on Sunday, November 11 from 2 to 4 p.m.
The exhibition, originally organized by University Galleries Director Kristen Evangelista for the San Jose Museum of Art, presents works by artists who draw inspiration from Mexico's deep well of visual culture. Their references include folk art, popular culture, and vernacular craft traditions as well as contemporary idioms. This exhibition includes works by artists who enlist traditional, refined artisans' techniques (such as weaving and ceramics) to challenge today's mass-market consumer culture alongside the work of artists who transform the most expendable materials into art.
"Mexican folk art, craft, and popular culture are a familiar visual vocabulary, and these artists offer a contemporary take on Mexico's varied and vibrant cultural expressions," says Evangelista. "They reclaim traditional symbols, many of which have been absorbed into the superficial realm of the mass tourist trade. By paying homage to the imagery of tradition—without either nostalgia or cynicism—they advance a deeper understanding of Mexican culture, identity, and history."
The exhibition includes works by artists who share roots in Mexico yet live and work across the United States and the globe, including Natalia Anciso (Oakland, CA), Margarita Cabrera (El Paso, TX), Enrique Chagoya (San Francisco, CA), Colectivo "La Malagua" (Puerto Vallarta, Mexico), Máximo González (Mexico City), Gabriel Kuri (Mexico City and Brussels, Belgium), Franco Mondini-Ruiz (San Antonio, TX), Betsabeé Romero (Mexico City), and Jamex and Einar de la Torre (San Diego, CA, and Ensenada, Mexico).
The exhibition is one of three on view concurrently in the University Galleries. The East Gallery features "Unbound: Artists' Books from the Permanent Collection," which explores contemporary innovations in paper engineering. On view in the South Gallery is "Emma Wilcox: Where It Falls." Organized by The Print Center of Philadelphia, this exhibition showcases Emma Wilcox's haunting, enigmatic silver prints taken primarily within a five–mile radius of Newark that hint at crime, destruction, and violence. In conjunction with the exhibition, "Promesas (Promises)," a selection of historical and contemporary works, investigates the same themes as Wilcox's photographs.
This exhibition is made possible in part by funds from the New Jersey State Council on the Arts/Department of State, a partner agency of the National Endowment for the Arts. The William Paterson University Galleries are wheelchair-accessible. Large-print handouts are available. For additional information, please call the Galleries at William Paterson University at 973-720-2654.
11/06/12