Diane Neglio '04: Nature Inspires This Artist
Diane Neglio '04, a sculptor and painter, creates an ever-evolving body of artistic work inspired by elements found in the natural world.
The elements found in the natural world---trees, flowers, grasses, and plants among them, continue to inspire Diane Neglio '04, a sculptor and painter, to create an ever-evolving body of artistic work.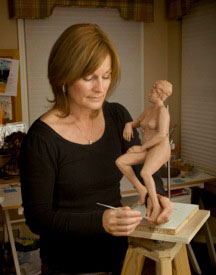 "The direction my sculpting has taken in the last year has been to add new elements such as plants and flowers to my works in order to surprise the viewer with a twist," she says. "In place of an upper body there might be a grassy plant or flowers where hair should be. It reminds us that we are all still part of the earth and one with nature. The mix of hard surfaces like terracotta against the softness of silk flowers and plants provides an unexpected combination that is intriguing and invites closer inspection."
She comes by her artistic talent naturally. Her father was a painter who worked in oils, and she was drawn to the arts as a young child.
"I was always interested in art,'' she recalls. "When I first studied art in college, I enrolled in a life sculpting class, and found that I had a natural ability to sculpt. Now I enjoy sculpting so much that I'll never stop."
She earned a bachelor's degree in art, with teaching certification. Neglio balances her artistic endeavors with taking care of her family, son Brandon and daughter Sophia. Her husband, David, graduated from William Paterson in 1984. He is an executive with Interstate Outdoors.
"School was very difficult with two small children," she remembers. "My youngest, Sophia, was only three, and Brandon was five at the time. I used to bring Sophia to the daycare on campus. That helped a lot, since she was so close, I could check on her in between classes. I was also able to stay and study in the library where it was quiet and I could focus."
"My biggest supporter and champion was my husband, Dave," she continues. "Without his support I never could have managed classes, studying, caring for my family, and staying sane. He always said the cooking and cleaning can wait, 'don't worry about it.' It was his idea for me to go back to school since I had never finished my art degree when I was in California. We met, fell in love, and I got sidetracked and quit college with only about 6 classes to go to graduate. He advised me to go back and get my degree from William Paterson. He believed I would feel better about myself if I finished what I had set out to do."
Neglio, who has exhibited her work in numerous solo and group shows in the region, has recently expanded her body of work. Although a sculptor at heart, her second love is painting.
"I've recently been using big, bold colors in my work," she says. And she has been experimenting with adding texture to her paintings to produce a different mood. "My recent paintings have a more sculptural feel as I add things like sand to the paint," she says.
Neglio always returns to sculpting, however. "In addition to natural things, I love to sculpt people," she says. "I'm happiest when I can capture a split second in time, an expression on someone's face, in clay or terracotta. That has a powerful feel to it."
"My artistic career was definitely shaped by the art program at William Paterson," she adds. "The validation art students get through teachers, and being encouraged to put together shows of their work is what gets you thinking that you are a professional. As I created a body of work with Professor Zhiyuan Cong, I saw how much dedication he had to his own work, and how much he wanted his students to succeed. That was hugely inspirational."
Currently, her works are on view in group exhibitions at Studio Montclair, the JJC in Tenafly, and Cumberland County Community College. Her works can also been seen at dianenegliosculptures.com.
04/29/13