Cotsakos College of Business Included in Princeton Review's Best Business Schools for Sixth Straight Year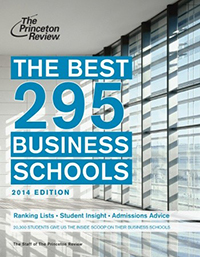 William Paterson University's Cotsakos College of Business is once again included in the Princeton Review's annual guide to graduate business schools. The 2014 edition, The Best 295 Business Schools, marks the sixth straight year the College of Business has been featured in the book, which is well known for its college rankings based on how students rate their schools.
In order for a school to be included in the book, it must meet Princeton Review's criteria for academic excellence, as well as allow surveys of its students. The 80-question survey asks students about themselves, their career plans, and their school's academics, student body, and campus life. More than 20,000 students at 295 schools were surveyed for the 2014 guidebook.
William Paterson M.B.A. students described the program as led by business experts who have "valuable real-world experience to bring into the classroom." Eager to engage their students, professors initiate "challenging discussions and clearly bring their experiences with them to the classroom." In addition, students describe a culture of support within the College community. One student said, "This is my first year back after ten years, and the school administration and professors have made coming back a smooth experience."
The Cotsakos College of Business is accredited by the Association to Advance Collegiate Schools of Business (AACSB) International, the longest serving global accrediting body for business schools that offer undergraduate, master's, and doctoral degrees in business and accounting. The College offers a master's degree in business administration, with concentrations in accounting, entrepreneurship, finance, marketing, and music management.
10/17/13