A Visionary Researcher: Henry F. Edelhauser '62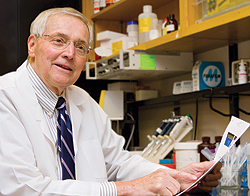 Henry F. Edelhauser '62
By Barbara E. Stoll '93, M.A. '94
It was a scientific conundrum, a seemingly unattainable quest with a highly desired outcome: how could one deliver drugs to the back of the eye in a more efficient way? It was a question that had intrigued Henry F. Edelhauser '62, former director of research for the Emory Eye Center, an award-winning researcher, and an expert in drug delivery, for some time.

This research into ophthalmic drug delivery was funded by an almost $7 million grant from the National Eye Institute awarded to Edelhauser and Mark Prausnitz, professor of chemical and biomolecular engineering at the Georgia Institute of Technology. Together, they collaborated and led a team of researchers to investigate ways in which ocular drug delivery could be targeted directly to the retina, at the back of the eye, something that was previously not possible.

"The research led to the development of a micro needle apparatus, five hundred microns in length (half a millimeter), which was awarded two patents," Edelhauser explains. "The first one was for the needle itself, while the second patent was a continuation of the first, using the micro needles to get to the suprachoridal space of the eye behind the retina and between the white part of the sclera."

"The only way to deliver drugs into the eye right now is to inject them directly into the middle of the eye," he continues. "When this tiny micro needle gets developed it will have a more direct application."

Applying hard science to clinical problems has been at the center of Edelhauser's career and research.
After graduating from William Paterson with degrees in both biology and chemistry, he earned
a master's degree and a doctorate in physiology from Michigan State University.

Early in his career, at the Medical College of Wisconsin Department of Physiology and Ophthalmology, he developed an interest in translational research, finding a direct link from a clinical situation to a solution.

"As a basic scientist in a lab, I was able to come up with solutions to problems," Edelhauser
says. "Other researchers would bring clinical problems which we would solve collaboratively. Taking research from the lab and moving it into the clinic where it can benefit the world is very gratifying."

The road to multimilliondollar grants and ophthalmological research began for Edelhauser after
a three-year stint in the U.S. Navy from 1955 to 1958 when he decided to go to college and enrolled in William Paterson's biology program, chaired by C. Kent Warner.

"There was an opening in the biology department," he remembers. "It worked out very well for me and gave me the qualifications I needed for graduate school." An excellent student, this Eagle Scout graduated with honors and received the Outstanding Senior Award in 1962. He was also an athlete, and ran cross-country under longtime coach and professor Gabe Vitalone, who was a mentor to him.

Professionally, Edelhauser, now a professor at Emory University, who is widely published in his field, has received numerous awards for his research including the prestigious Castroviejo Medal, given by the Cornea Society to the most outstanding individual in the field of cornea and anterior segment of the eye research; the Proctor Medal Award from the Association
for Research and Vision in Ophthalmology; the R. Townley Paton, M.D. Award from the Eye Bank Association for his research contributions to national and international eye banking; and the Charles Kelman Innovator's Award from the American Society of Cataract and Refractive
Surgery.

Looking back, he is most proud of his role as a mentor to graduate students. "When I think of all the graduate students and fellows I've trained over the years in one-on-one teaching and research in surgical pharmacology or toxicology, I'm very proud of their success as they
go out to run their own research labs," he says.

Currently, he spends his time teaching, giving lectures, traveling, and visiting with his grandchildren. WP



12/03/12