University Marks Centennial of Paterson Silk Strike with Conference, Exhibition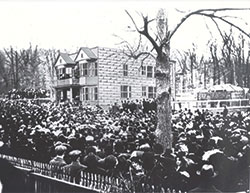 The strikers rally at Botto House in 1913
By Mary Beth Zeman
In the early 1900s, the city of Paterson was famous around the world for the fine quality of the silk produced in its mills. But following the introduction of highspeed automatic looms, the city's silk manufacturers decided that workers who previously operated two such looms simultaneously would now need to run four. In February 1913, the workers, many of whom were immigrants and numbering more than twenty-five thousand, went on strike, gathering at the nearby home of Pietro Botto in Haledon, which today is Botto House National
Landmark and home to the American Labor Museum.

To mark the centennial of this pivotal event in American labor history, the University is joining with a wide array of civic, cultural, educational, historical, and labor organizations in the region this year that are providing programming related to the strike. As part of the Paterson Silk Strike Centennial Alliance, William Paterson is hosting two significantevents: an exhibition of prints, curated by Alejandro Anreus, professor of art history, and a multidisciplinary academic conference focused on the history and legacies of the strike.

The exhibition, "The Indignant Eye: Prints of Social Protest," on view in the University Galleries from April 22 through June 7, 2013, features nineteen works from the print collection within the
Special Collection of the Newark Public Library and showcases graphics from the eighteenth century through the present day.

"Throughout history, there have always been artists who became involved in man's quest for social justice," says Anreus. "They have used their art – their most effective weapon – to attack exploitation, satirize the corrupt, support the heroes of the downtrodden, and do battle with oppressive institutions."

Among the artists whose prints are included in the exhibition are John Sloan and Boardman Robinson, two supporters of the strike whose graphic work was included in The Masses, a socialist monthly published from 1911-17. The exhibition also includes works by Spanish Enlightenment painter Francisco de Goya; the Mexican muralist Diego Rivera, and twentieth century progressives Ben Shahn, Amos Kennedy, and John Risseeuw. "What they have in
common, no matter what their historical and ideological differences, is the belief in the social agency of art."

Steve Golin, author of The Fragile Bridge: Paterson Silk Strike, 1913, who is considered the foremost authority on the history of the strike, will be the keynote speaker for the Paterson Silk Strike Centennial Conference, 1913-2013, to be held May 20 and 21. Hosted by the University's David and Lorraine Cheng library, the conference is expected to draw scholars from across the country to discuss their research on topics such as labor history and activism, immigrant experiences and cultures, women and the strike, and more.
In addition to the academic discussion, day two of the conference will feature a guided tour of the historic sites in the Paterson area related to the history of the strike, including the Paterson Great Falls National Historical Park, where the silk mills were located; the nearby Paterson
Museum; the Botto House/American Labor Museum, where strikers gathered to organize; and the Passaic County Historical Society at Lambert Castle.

"The conference is intended to commemorate and take lessons from the historic struggles of working people for the dignity of fair wages, safe and decent working conditions, and a more
democratic economic order at a pivotal moment in Paterson's history," says Richard Kearney, research and electronic resources
04/26/13