University Observes Veteran's Day
More than 6,500 American flags were planted in Zanfino Plaza to represent the service members killed in action since 9-11-2001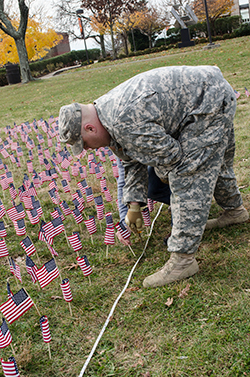 Flags planted on campus
The University's observance of Veteran's Day began in Zanfino Plaza on Monday, November 11 with the planting of more than 6,500 American flags which represented service members who have been killed in action since 9-11-2001 in Operation Iraqi Freedom and Operation Enduring Freedom. Student veterans, members of the Phi Kappa Tau fraternity, and the student patrol division of the campus police participated in the event.
Click here to view photo slideshow
A new event this year was the display of signs which contained the bios and photos of current student veterans around campus. A lunch for veterans was hosted by University President Kathleen Waldron in cooperation with the Office of Veteran Affairs. The annual event recognizes and honors all veteran students, faculty, and staff who have served our country. Robert De Blasi '63, MA '64, a decorated Navy veteran, spoke during the lunch. A retired K-12 science supervisor in the Paramus School District, he shared his vivid memories of his years in the service testing nuclear weapons in the Pacific. He was accompanied by his wife, Marie, a 1960 alumna.
"My military and educational experiences served as the defining moments in my life," De Blasi said. "I want the student veterans to know that the opportunities for positive change and success are in their hands and they should take advantage of this new defining moment in their lives."
Among the other events was a roll call ceremony which included the reading of a New Jersey casualty list of all killed in action (K.I.A) soldiers along with names of individuals who were directly known by William Paterson students. A flag case was presented as a gift to the Office of Veteran and Military Affairs ( for the support and feeling of belonging the office staff provided ) from a student Iraqi war veteran, Michael Rosario, and his fraternity, Tau Kappa Epsilon.
11/21/13