Rufus Reid Trio to Perform on Jazz Room Series At William Paterson University on February 17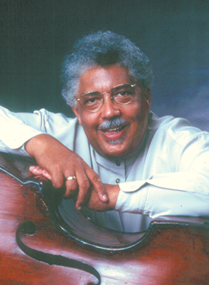 Rufus Reid
Jazz bassist Rufus Reid will perform with his trio as part of the spring 2013 Jazz Room Series at William Paterson University in Wayne on Sunday, February 17 2013 at 4 p.m. in the Shea Center for Performing Arts on campus. The acclaimed Sunday afternoon concert series is currently celebrating its 35th anniversary season.
Prior to the concert, Reid will be a guest for "Sittin' In," an informal discussion about jazz, at 3 p.m. in Shea Center. Admission is free to all Jazz Room ticket holders. Tickets are available at the Shea Center Box Office in advance at 973.720.2371 or wp-presents.org or on the day of the performance at $15 general; $12 senior citizens, William Paterson faculty, staff and alumni; and $8 for non-William Paterson students. William Paterson students may attend free of charge with valid ID.
Reid, who served as director of studies at William Paterson for two decades, is one of the premier bassists on the international jazz scene, as well as a composer and educator. Reid returns to the campus as part of the fortieth anniversary of the jazz studies program celebration. As a composer, he has written for string orchestra, jazz ensembles large and small, concert band, double bass ensemble, and solo bass. Reid brings his evocative compositions and his uniquely warm bass sound to anchor his acclaimed trio that includes pianist Steve Allee and drummer Duduka Da Fonseca.
Launched in 1978, The Jazz Room is one of the largest and most prestigious college-sponsored jazz events in the country. Performers include renowned professionals who encompass the complete spectrum of jazz, as well as William Paterson's own student ensembles. The series has won numerous grants from the New Jersey State Council on the Arts and the National Endowment for the Arts for its innovative programming.
02/11/13