Pulitzer-prize Winning Reporter Carl Bernstein Speaks with William Paterson University Students Prior to Distinguished Lecturer Series
Bernstein participated in a question and answer session with students from communication and political science classes on the stage of the Shea Center on campus.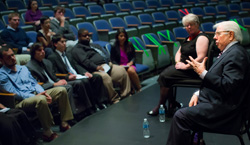 Carl Bernstein, the legendary journalist and author, met with a small group of communication and political science students on Friday, October 12, just prior to his speaking appearance with the University's Distinguished Lecturer Series.
Bernstein told the students that "Watergate was just a small part in the vast campaign of political espionage and sabotage designed to undermine free elections in this country." Bernstein and fellow reporter Bob Woodward broke the Watergate story while working at The Washington Post. Their aggressive reporting on the scandal ultimately resulted in the resignation of President Richard Nixon.
Christine Forino, a senior majoring in communication, and part of the student session, appreciated having the opportunity to hear Bernstein in person. "I can't imagine what it must have been like to be a reporter at that time and break such a big scandal. It makes me wonder how it would have been today, in our world of social media," she says.
When asked by students if today's 24/7 media hinders this type of investigative reporting, Bernstein said he doesn't think that it keeps us from getting the news. "Real reporting begins by talking to people who have access to information," he says, not speaking to high officials. "We covered the Watergate break-in just like any other story. We obtained lists of employees who worked for Nixon and started knocking on doors."
The forum was moderated by Elizabeth Birge, professor and chair of the William Paterson University Communication Department.
10/15/12