Bernice Toledo '94, M.A. '98: Using the Law to Assist Those in Need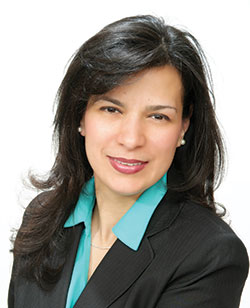 Bernice Toledo
By Barbara E. Stoll '93, M.A. '94
Long before she had a law degree, or was elected Passaic County Surrogate in 2011, Bernice Toledo '94, M.A. '98, used her English skills to help others. As an eight year-old, and a child of Spanish-speaking parents, she routinely accompanied her mother to school or to stores to translate her parents' wishes or needs.
Today, she continues to help others, but in a more professional capacity. "The Surrogate Court offers the best in public service that one could hope for," she says. "I work with a vulnerable population that needs compassion and direction."

A surrogate stands in place of people who can't speak for themselves."When people come to me for help, I offer service and sensitivity above all else. I do my best to help them getthrough life," she explains.
Her court touches many in the county. Surrogates probate wills, and so deal with the grieving; supervise all adoptions in Passaic County, thereby helping children; and appoint guardians for people who are incapacitated, among other services.

The cases in her court are diverse and each day is different, but a common thread runs through all—helping people get through the uncertainties that life inevitably hands them.

"Most cases deal with human emotion," Toledo says. "I inherited a case that involved two sisters who were locked in an acrimonious fight over who would be the administratrix of an estate. I looked over the value of the estate and it was relatively small, but the fight was as acrimonious as it could get. At the hearing, I realized that it was really about family discord. One sister had been the caregiver to their parent; the other had a job, but wanted to do one last thing for the parent. I helped them open a line of communication. Most people just want to be heard.

"The Surrogate's Court is a court of no contest," she continues. "We try to settle cases through a consent conference and I move things along quickly. In instances that are highly contested, or present doubt or difficulty, I make a referral to Superior Court, Chancery Division."

Toledo is the first Latina and only the second woman to be elected as a Surrogate Court Judge in Passaic County. She holds a bachelor's degree in business and a master's degree in communication from William Paterson, and a law degree from Seton Hall University.

"My degrees from William Paterson assisted me greatly. The business and communication skills I learned helped me navigate through difficult situations. These tools have sharpened my ability to negotiate when mediating family disputes," she says.

New to politics when she ran for office in 2011, Toledo contacted fellow alumni who had run successfully for local offices: Domenick Stampone '94, currently mayor of Haledon; Mohamed Khairullah '98, currently mayor of Prospect Park; and Reynaldo Martinez '91, M.Ed. '94, councilman in Haledon. She didn't know any of them.
"I reached out to my fellow alumni whose success in the political arena I'd admired. In return, they imparted the extraordinary advice that contributed to my campaign victory," Toledo says. "They offered their assistance because I was part of the William Paterson family. I appreciate that, since I know that no one does it alone."

Running for this office seemed a good fit for her, she concludes. "My entire legal career has been devoted to family law. The Surrogate Court is an extension of that. It allows me to serve in a gratifying and meaningful capacity." WP
04/26/13