William Paterson University Galleries Present Exhibition Of Recent Work By Photographer Emma Wilcox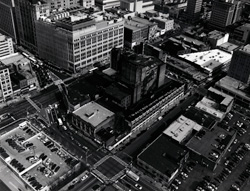 Photograph by Emma Wilcox
—"Promesas (Promises)," featuring historical and contemporary works critical to Wilcox's practice, presented in conjunction with her exhibition
—Both exhibitions organized by The Print Center of Philadelphia
"Where It Falls," an exhibition of recent work by photographer Emma Wilcox that examines issues of environmental justice, land usage, eminent domain and the role of individual meaning in the creation of local history, will be on view at the William Paterson University Galleries from November 11 through December 14, 2012. Gallery hours are Monday through Friday from 10 a.m. to 5 p.m. and on November 18, December 2 and December 9 from noon to 4 p.m. Admission is free. An opening reception for the exhibition will be held on Sunday, November 11 from 2 to 4 p.m.
Over the past seven years, Wilcox has been writing texts using household flour and paint, in twelve-foot-high letters, on rooftops throughout Newark and photographing them via helicopter. The series began with her own house, when she discovered she was about to lose it through the invocation of eminent domain to accommodate planned development. The rooftop texts are derived from interviews with people in affected neighborhoods, legal documents, signage (both active and defunct), and classic and modern poetry.
For this exhibition, Wilcox has photographed newly made texts created on rooftops and vacant lots based on the original survey text of the city of Newark. She utilizes the gelatin silver print process, a chemical process now considered by many to be archaic, but here it is an ideal medium for depicting chemically tainted landscapes. Several of Wilcox's Forensic Landscapes, an ongoing series of street scenes of Newark, are coupled with her aerial photographs. The scenes show easily overlooked details of urban sites and illustrate the perseverance of these spaces despite their almost overwhelming decay and neglect.
Wilcox's most recent solo exhibitions were in 2010 at Gitterman Gallery, New York, NY and 2009 at Real Art Ways, Hartford, CT. She is the recipient of a New Jersey State Arts Council Fellowship for photography, the Camera Club of New York Residency, the Newark Museum Residency and was a core participant in Night School at the New Museum in 2008. She is the co-founder, with Evonne M. Davis, of Gallery Aferro, an alternative space in Newark.
In conjunction with the exhibition, a number of works by other artists whose work has been critical to Wilcox's practice will be installed. "Promesas (Promises)" brings together documents, photographs, and other works, a number of which are from the Special Collections Division of the Newark Public Library, which Wilcox became familiar with while an artist-in-residence at the Newark Museum in 2008. This exhibition explores many of the same themes as Wilcox's, including the effects of urban planning on communities, while also delving into the history of Newark as far back as its founding in 1693. Included are works by Scott Andresen, Bulletspace, John Fekner, Sarah McCann, and Rosamond S. King.
Both exhibitions are organized by The Print Center, which supports printmaking and photography as vital contemporary arts and encourages the appreciation of the printed image in all its forms.
The exhibition is one of three on view concurrently in the University Galleries. On view in the Court Gallery is "Mexicanisimo Through Artists' Eyes." Organized by Kristen Evangelista for the San Jose Museum of Art and modified for the William Paterson University Galleries, the exhibition reexamines traditional symbols and artisanal techniques to advance a deeper understanding of Mexican culture, identity, and history. The East Gallery features "Unbound: Artists' Books from the Permanent Collection," which explores contemporary innovations in paper engineering.
This exhibition is made possible in part by funds from the New Jersey State Council on the Arts/Department of State, a partner agency of the National Endowment for the Arts. The William Paterson University Galleries are wheelchair-accessible. Large-print handouts are available. For additional information, please call the Galleries at William Paterson University at 973-720-2654.
11/06/12