Tribute Band From Sweden to Perform Music of Abba at William Paterson University on January 24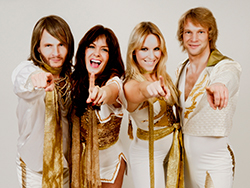 Arrival from Sweden
Arrival, a renowned Swedish pop group, will perform "The Music of ABBA" at 8 p.m. on Friday, January 24, at William Paterson University in Wayne. The performance will take place at the University's Shea Center for Performing Arts on campus.
Tickets are available at the Shea Center Box Office in advance at 973.720.2371 or wp-presents.org for $35 orchestra and $30 loge.
ABBA, which formed in Sweden in 1971, is the country's biggest music export ever. The pop/disco band became one of the most commercially successful pop acts of all time, topping the music charts worldwide until 1982. The group's hits, including Dancing Queen and Honey, Honey, are included in the popular musical and movie "Mamma Mia!" which is based on their music.
Established in 1995, the tribute band Arrival has toured in more than 50 countries and have sold out venues internationally. Wearing original ABBA outfits and performing ABBA songs, Arrival is the only tribute band sanctioned by ABBA.
For additional information, please call the University's Shea Center Box Office at 973.720.2371 or visit wp-presents.org.
# # #
01/16/14