Dr. Warren Sandmann Appointed Provost and Senior Vice President for Academic Affairs of William Paterson University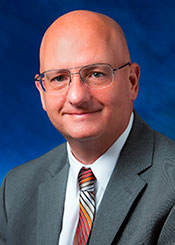 Dr. Warren Sandmann
Dr. Warren Sandmann, the associate provost and associate vice president for academic affairs at Minnesota State University, Mankato, has been named provost and senior vice president for academic affairs at William Paterson University in Wayne, N.J. following a national search.
Dr. Sandmann, who assumed the post on July 1, has served as associate provost at Minnesota State University, Mankato since 2011, and as associate vice president for academic affairs since 2009. Previously, he was assistant vice president for undergraduate studies, overseeing the general education curriculum at the 15,000-student campus as well as supervising the Office of Institutional Assessment and First-Year Experience. From 1997 through 2003, Dr. Sandmann was chair of the Department of Communication Studies with the rank of full professor.
In his position at William Paterson, Dr. Sandmann serves as the chief academic officer and is responsible for the planning, development, and administration of the teaching, scholarship, and service aspects of the University's mission. Reporting to the president, he will coordinate the efforts of the institution's vice presidents toward fulfillment of the University's academic mission.
"Dr. Sandmann's expertise in the areas of academic program and fiscal planning, curriculum development, assessment, and accreditation combined with his broad knowledge of current trends in higher education and strong communication skills will enable him to work successfully with the University community to support William Paterson's commitment to academic excellence," says Kathleen Waldron president. "He is an experienced leader whose entire professional career as a faculty member and as an academic administrator has been focused on positions at comprehensive public institutions whose mission is very similar to that of William Paterson University."
"I am looking forward to the great opportunity to be part of the William Paterson team, and I am excited to be part of a university and community that is moving forward," says Dr. Sandmann.

Dr. Sandmann succeeds Edward Weil, who served as provost and senior vice president for academic affairs at William Paterson from 2006 to 2013. Weil is returning to the William Paterson faculty as a professor of anthropology.
Prior to joining Minnesota State University, Mankato in 1996, Dr. Sandmann taught undergraduate and graduate courses, including online courses, in communication at the State University of New York, Geneseo and was a lecturer at San Jose State University. He began his career as a writer, photographer, and editor for a weekly newspaper in Sleepy Eye, Minnesota.
A specialist in rhetoric, especially argument and debate, he is the author of numerous articles and book chapters as well as a regular presenter at academic conferences in his discipline. Dr. Sandmann has published and presented on legal studies, communication technology, national sovereignty, free speech decisions of the Supreme Court, and communication law. A member of the editorial board of the Free Speech Yearbook, he is a member of the National Communication Association and the Eastern Communication Association and serves as a consultant-evaluator for the Higher Learning Commission.
Dr. Sandmann earned a bachelor of science degree in English in 1983 and a master of arts degree in speech communication in 1989 from Minnesota State University, Mankato. He received his doctorate in communication studies with an emphasis in rhetorical studies in 1992 from the University of Iowa.
06/18/13