Former New Jersey Governor Thomas Kean Challenges William Paterson University Graduates During Commencement Address
Governor Kean urged graduates to make a difference through civic engagement.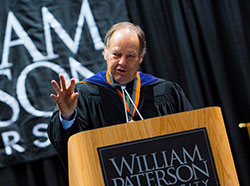 Former New Jersey Governor Thomas H. Kean
Former New Jersey Governor Thomas H. Kean presented a challenge to the 2,625 graduates who received degrees during William Paterson's 190th Commencement ceremony on May15 as he delivered the commencement address and received a President's Medal.
Gov. Kean, citing numerous global, political, and economic issues, challenged the graduates. "Your generation faces a daunting task," he said. "There's no peace on earth, and children are suffering all around the world. Global war is a very real danger, and the economy remains stagnant. We need people of wisdom and courage to go into government. Every one of our problems are created by people. The only way those problems can be solved is by people."
The excitement of commencement was communicated in real-time through the posting of tweets, photos via Instagram, videos via Vine, and live webstreaming of the ceremony. See links below:
President Kathleen Waldron spoke to the graduates about the importance of their newly minted degrees. "We have faith in the education you have received and in the determination you have already demonstrated," she said. "The future is yours. You have learned a higher level of thinking, a broader perspective on analyzing information, an appreciation for the arts and music… that could only be achieved by the effort you made to obtain your degrees today. Make the best of that future."
An honorary degree was awarded to David F. Bolger, whose parents migrated to the United States from the Netherlands. He founded Bolger & Co., Inc., a real estate development firm, in 1996. He received an honorary doctor of humane letters degree in recognition of his outstanding philanthropic contributions to society. Bolger is president of The Bolger Foundation through which he made a leadership gift to the University to support the creation of The Nel Bolger, R.N. Nursing Laboratory for nursing students.
Entrepreneur and real estate developer Spyros Lenas also received an honorary doctor of humane letters degree. A resident of Wayne, Lenas is the founder and chairman of Lenfam Management Company and its affiliates. His vision of assembling the vacant land at the intersections of Route 23, Route 46, and Route 80 led to his arranging the development of the Willowbrook Mall as well as a number of other commercial properties throughout New Jersey. Mr. Lenas was a founding member of the University's Foundation Board.
During the ceremony, three faculty were recognized for their contributions to excellence: Maria Villar, professor of anthropology, for excellence in teaching; Vincent Parrillo, professor of sociology, for excellence in scholarship and creative expression; and Stephen Shalom, professor of political science, for excellence in service.
05/21/13