Vocalist Lauren Fox to Sing the Songs of Joni Mitchell and Leonard Cohen in Valentine's Day Concert at William Paterson University on February 14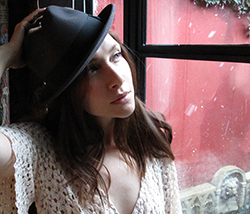 Lauren Fox
Award-winning cabaret performer Lauren Fox will sing music by folk music artists Joni Mitchell and Leonard Cohen in a special Valentine's Day program titled "Love, Lust, Fear and Freedom" on Friday, February 14, 2014, at William Paterson University in Wayne. The show, part of the WP Presents! Onstage Café at Shea, will be at held at 8 p.m. in the University's Shea Center for Performing Arts.
Tickets are $25 for the show only and $50 for onstage seating featuring dinner and dessert buffet with an open bar.
Fox will explore the creative genius and conflicted desires of the Mitchell and Cohen, who had a short-lived romance in the late 1960s. Fox delves into the meaning behind their songs, including Mitchell's "Chelsea Morning," "River," and "Both Sides Now," and Cohen's "Suzanne," "Bird on a Wire," and "Hallelujah."
Born and raised in New York City, Fox was received the 2013 Nightlife Award Recipient for Outstanding Cabaret Performer of the Year. She has presented cabaret performances at the Metropolitan Room in New York, and performed at Jazz at Lincoln Center's Rose Theater, Carnegie Hall, Town Hall, Subculture NYC, Joe's Pub, and performing arts centers around the country. As an actress, she has appeared in films and on television, and in several Off-Off Broadway productions.
For additional information, please contact William Paterson University's Shea Center Box Office at boxoffice@wpunj.edu, call 973.720.2371 or visit www.wp-presents.org.
01/23/14