Sculpture by William Paterson Art Professor on View in Columbus Circle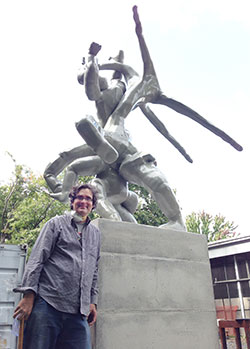 Michael Rees with his sculpture
Michael Rees, William Paterson University associate professor of sculpture and new media, will have a sculpture on view from October 16, 2013 to May 1, 2014 between Central Park South and 58th Street on Broadway in Manhattan. The sculpture, "Converge: Graib Bag" is curated by the Museum of Arts & Design as part of its "Out of Hand: Materializing the Post Digital" exhibition.
"Converge: Graib Bag" is a 16-foot conglomeration of many bodies. Rees experimented with animations and industrial forms of manufacture to create the "towering abstraction of wrestling figures." Reese modeled the sculpture on the computer and then milled it with a machine and completed the work by hand. A barcode will be available on the base of the sculpture that visitors can scan to watch the animated short film by Rees that inspired the work.
A second work, developed by Michael Rees and Robert Gero, will also be part of the exhibition. "Intervening Phenomena" was developed by working with 3D computer software. The digital files were then passed back and forth between Rees and Gero to create a "ground of play" and resulted in objects that are extensive and transitive structures. "Intervening Phenomena" will be on view for the duration of the exhibition from October 16, 2013 to July 1, 2014.
10/16/13