William Paterson University to Host Conference to Commemorate Centennial of the Paterson Silk Strike of 1913
--Bus tour of locations significant to the history of the strike in and around Paterson will be held as part of conference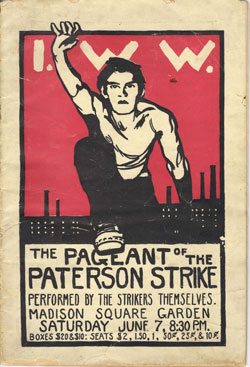 To mark the centennial of the Paterson Silk Strike of 1913, William Paterson University is hosting a multidisciplinary conference that will draw scholars from across the country to discuss the issues, events, and legacies of the strike.
The Paterson Silk Strike Centennial Conference will be held on May 20 and 21, 2013. Conference day will be held on Monday, May 20, from 8:30 a.m. to 4:30 p.m. in Science Hall East and the Ben Shahn Center for the Visual Arts. Presentations and discussions will address numerous aspects of the strike including economic and industrial change, immigrant community experiences and cultures, gender and race issues, labor radicalism and activism, and the aftermath of the strike.
Steve Golin, professor emeritus of history, Bloomfield College, will present the conference's keynote address. Golin, considered the foremost authority on the history of the strike, has authored and co-authored numerous publications on the topic, most notably his book The Fragile Bridge: Paterson Silk Strike 1913.
Tuesday, May 21, will consist of a daylong guided bus tour of locations significant to the history of the strike in and around Paterson. Locations include the Botto House, now home to the American Labor Museum, where the strikers gathered, and the Great Falls of Paterson, which supplied electricity to the mills.
In the early 1900s, Paterson's mills were famous for producing superior silk. After the introduction of high-speed looms, workers were asked to run four looms instead of two. As a result, a strike by more than 25,000 workers was called in February 1913.
"The conference is intended to commemorate and take lessons from the historic struggles of working people for the dignity of fair wages, safe and decent working conditions, and a more democratic order at a pivotal moment in Paterson's history," says Richard Kearney, research and electronic resources librarian, who is chairing the conference committee. "We also hope to encourage reflection upon the connections between the past and the present, with implications for present-day problems and possible solutions."
In addition, the William Paterson University Galleries are hosting an exhibition, "The Indignant Eye: Prints of Social Protest." On view in the University Galleries from April 22 through June 7, 2013, the exhibition features nineteen works from the print collection within the Special Collection of the Newark Public Library and showcases graphics from the eighteenth century through the present day.
The conference is sponsored by the University's David and Lorraine Cheng Library. For more information about the conference, including program details, a full schedule, registration information and directions, please visit wpunj.edu/library/silkstrike100, or contact Richard Kearney at 973.720.2165 or kearneyr@wpunj.edu.
04/15/13