William Paterson Community Honored Martin Luther King Jr. Day of Service by Volunteering at Sites Across the State
More than 165 William Paterson University students cut their winter recess one day short, and joined together on Monday, January 16, Martin Luther King Jr. Day, to volunteer their time with non-profits across northern New Jersey.
At the Father English Community Center, 50 University students helped to renovate and clean the food pantry, beautify the afterschool center, reorganize the clothing boutique and paint the main staircase. Other students helped with a Paterson Great Falls clean up and performed volunteer work for Rahway Food for Friends.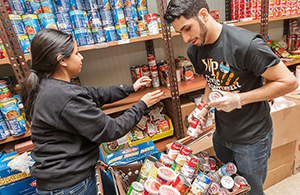 Civic engagement is one of the core values at William Paterson University. The University's commitment to civic engagement is demonstrated not only through its curriculum, but also through the wide range of extracurricular activities – such as the Martin Luther King Jr. Day of Service – that enable students, faculty, and staff to get involved and make a difference in the community. View more photos on Facebook.
The University is the first and only public New Jersey college or university that requires new undergraduates to take a course on civic engagement and put their knowledge to use by volunteering for causes of their choice. Last year, more than 2,300 William Paterson students enrolled in 40 different civic engagement courses in a variety of disciplines, and students contributed more than 7,200 hours to community service projects.
01-19-17
01/18/17