University to Observe Martin Luther King Jr. Day on January 29 with Lecture by NBC Contributor Joy-Ann Reid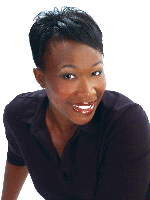 Joy-Ann Reid
William Paterson University will hold its annual celebration of the life and legacy of Martin Luther King Jr. on Tuesday, January 29 with a lecture by Joy-Ann Reid, an NBC contributor, to be held at 12:30 p.m. in the University Commons, Ballroom C. The lecture, "The Leadership and Legacy of Dr. Martin Luther King Jr.," is open to the public. Admission is free.
Reid is the managing editor of TheGrio.com, a daily online news and opinion platform devoted to delivering stories and perspectives that reflect and affect African-American audiences. It is a division of NBC News. She is an MSNBC contributor, writes a bi-weekly political column for the Miami Herald, and edits The Reid Report blog. Reid previously worked in talk radio, as co-host and producer of a morning news-talk show for Radio One in Miami, and as an Internet news editor for NBC affiliate WTVJ in Miami. Her career in media began in 1998, when she worked as a morning news writer for Fox Miami affiliate WSVN.
She holds a bachelor's degree in visual and environmental studies, with a concentration in film, from Harvard University. Reid and her husband own a production company, IMAGELAB, which focuses on documentary films.
The lecture is sponsored by William Paterson's Education Enrichment Center. For additional information, please contact the Center at 973-720-2608 or via email at brownm@wpunj.edu.
01/28/13