Gandhian Forum for Peace and Justice at William Paterson University Presents Lecture by Sports Writer Dave Zirin on March 4
Zirin, a sports writer, columnist and radio host who writes about the politics of sports, will present a lecture about sports and social justice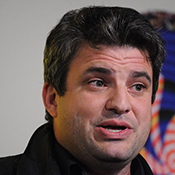 Dave Zirin
—Program to focus on sports and social justice; student panel to follow lecture
Dave Zirin, a sports writer, columnist and radio host who writes about the politics of sports, will present a lecture about sports and social justice on Tuesday, March 4, 2014, at William Paterson University in Wayne, N.J. as part of the Gandhian Forum for Peace and Justice. The lecture will be held from 12:30 to 1:45 p.m. in Shea Auditorium. The public is invited to attend and admission is free.
In his talk, Zirin will discuss a variety of topics, including the funding and promotion of women's sports, the treatment of gay and lesbian athletes, and whether athletes have been able to challenge injustice in sports and in the larger society. Following his talk, from 2 to 3 p.m., there will be a panel discussion by University students who will comment on his remarks with a response by Zirin at the end.
Zirin is the author of seven books, including Game Over: How Politics Has Turned the Sports World Upside Down (2012), Bad Sports: How Owners are Ruining the Games We Love (2010), and A People's History of Sports in the United States: 250 Years of Politics, Protest, People, and Play (2008), which forms the basis of a documentary co-written and narrated by Zirin called Not Just A Game: Power, Politics and American Sports. He writes about the politics of sports for The Nation magazine, SLAM Magazine, and the Progressive, and is the host of Sirius XM Radio's popular weekly show, "Edge of Sports Radio." He is the winner of Excellence in Sports Journalism Award presented by Sport in Society and the Northeastern University School of Journalism.
William Paterson University's Gandhian Forum for Peace and Justice seeks to engage high school, college, and university students and teachers and community members in innovative and practical ideas, actions, and programs that promote peace and justice through cooperative engagement, dialogue, and respect for opposing views and opinions. Previous lecturers have included Doug Henwood, editor and publisher of Left Business Observer; Jo Comerford, executive director of the National Priorities Project; Chris Hedges, Pulitzer Prize-winning journalist; Rabbi Michael Lerner, editor of Tikkun; Aftab Seth, India's former ambassador to Japan, Vietnam and Greece; and Juan Gonzalez, author of Harvest of Empire.
This program is co-sponsored by the William Paterson University Departments of Kinesiology, Political Science, Africana World Studies, and Women's and Gender Studies, the Race and Gender Project, the Women's Center, the Latin American and Latino/a Studies Program, the College of Humanities and Social Sciences, the Cotsakos College of Business, the College of Education, and the Office of the Provost.
For additional information, contact Steve Shalom at 973-720-4344 or shaloms@wpunj.edu.
02/20/14