Four Nursing Seniors Participate in Third Dental Mission to Dominican Republic During Spring Break 2013
William Paterson nursing seniors teamed up with students at the University of Medicine and Dentistry of New Jersey's (UMDNJ) New Jersey Dental School to offer dental care in one of the poorest sections of the country.
When nursing seniors Jancy Tejada and Esmeilin Beco heard about the volunteer dental mission to the Dominican Republic organized by Janet Tracy, professor of nursing, they seized the opportunity to return to their native country and help people in dire need of dental care.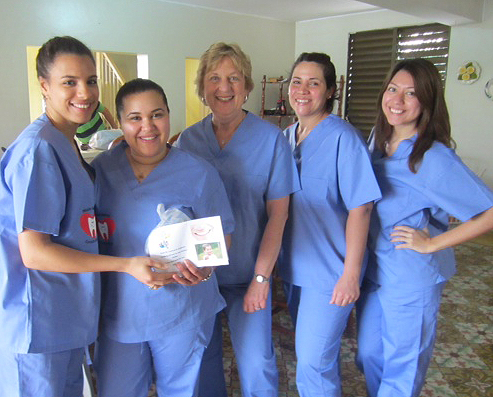 Pictured from left: Jancy Tejada, Esmeilin Beco, Professor Janet Tracy, Vivian Maldonado, and Karla Portocarrero
Tejada and Beco, along with Spanish-speaking nursing seniors Vivian Maldonado and Karla Portocarrero, volunteered during spring break 2013 to be part of the Cheerful Heart Dental Mission.
View Flickr slideshow featuring more photos from the trip
The students visited the town of Restauracion, one of the poorest areas of the country located near the Haitian border. They also helped people transported in from Tilroy, a nearby village in Haiti. Both regions have little or no access to health care facilities and no access to dental care.
Tejada lived in the Dominican Republic until age 12 and recalls the poverty. "I was fortunate to have been born in a working family, but we also lived with the scarcity of water, food, and electricity."
During the mission, Tejada says the nurses gave out toothbrushes and toothpaste, but realized that many of the people don't have water to brush their teeth. "The kids from Haiti didn't even know how to color when we gave them crayons while they waited to be treated," she adds.
Beco, born in a poor section of the Dominican Republic, was also eager to give back as part of the mission. "Seeing the people living in those poor conditions brought back memories," says Beco. "When I was a little girl, I did not have a lot of things that we take for granted in the U.S., like running water, toys, or even a pencil and notebook."
The dental mission grew out of a charity developed at the Community Church of Smoke Rise in Kinnelon, a church that Tracy attends. When Tracy visited a poor section of the Dominican Republic in 2008 to find out what type of help they could use, the nearest hospital administrator requested a dentist. That's when Tracy and another church member, an oral surgeon, organized the Cheerful Heart Dental Mission.
For the past three years, a group of nursing majors at William Paterson team up with dental students from the University of Medicine and Dentistry of New Jersey's (UMDNJ) New Jersey Dental School, as part of the Cheerful Heart Dental Mission.
"I am extremely proud of the knowledge and skill that these students displayed in their service," says Tracy, who also accompanied the students on the mission. "They were chosen from many interested graduating seniors and really showed the 'William Paterson spirit' and enthusiasm, by volunteering their services from early morning to late in the night."
The William Paterson and UMDNJ students, a 14-member team, helped 403 patients and performed more than 1,400 procedures during the four days of the clinic. Emphasis was on acute care and included extraction of almost 200 teeth, restorations on more than 100 teeth and cleaning, fluoride treatments and sealants in an attempt to prevent further decay.
The nursing students were all fluent in Spanish and provided health education and post- operative teaching, sterilization of all the instruments, and infection control throughout the clinic. They also gave a lot of moral support to young children who came unaccompanied to the clinic for their first-ever dental appointment, says Tracy. The youngest child was three years old.
"Helping those people felt incredible," says Beco. "It just broke my heart when it was time to leave. I thought, 'Who is going to keep helping them when we are not there anymore?' But I realized that there are so many ways you can give back even if you're not physically there. When I came to this country I pushed myself hard to get where I am today so I can give back to those in need."
04/29/13