University's WPSC 88.7 FM Holds Second Annual "College Radio Day" on October 2, 2012 to Celebrate Importance of College Radio
--Rob Quicke, general manager of WPSC 88.7, expands event to include international college stations from the Americas to Europe, Africa, Asia and Australia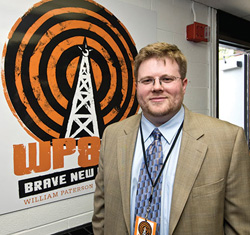 Rob Quicke, general manager, WPSC 88.7 FM
William Paterson University's campus radio station WPSC 88.7 FM will hold its second annual College Radio Day on Tuesday, October 2, 2012. The event has expanded to include more than 500 college and high school radio stations in 20 countries to celebrate the unique programming of student radio.
Many participating countries, including student radio stations in Italy, Latin America, the Caribbean, Australia, Sweden, and the United Kingdom, will take part in the 24-hour live broadcast.

Chris Martin of Coldplay will officially launch the day with a recorded message of support. Participating stations will offer a showcase of their best programming on that day and bring in special guests for musical performances and special interviews. In addition to live music and special programming, WPSC 88.7 FM will be airing scheduled telephone interviews with participating stations.
"We are starting a global marathon that has never been done before," says Robert Quicke, general manager of William Paterson University's WPSC 88.7 FM and assistant professor of communication. He conceived and organized College Radio Day in 2011, to celebrate the importance of college radio.
"What makes this year so special is that, for the first time, students from around the world will be able to connect with each other and hear how other cultures produce student radio. Nothing like this has ever happened before. It's exciting," says Quicke.
Quicke hopes that College Radio Day will help counter the growing trend of colleges and universities selling their radio station's licenses, often valued in the millions. The aim of College Radio Day is to convince people to tune in to their local area college radio stations, support this unique programming, and remind college administrators just how important their college radio stations are.
In addition, the first College Radio Day album will be released on October 2 to raise funds for cash-strapped college radio stations. Artists who have donated tracks include The Maine, Blues Traveler, Soul Khah, The Front Bottoms, Umphrey's McGee, Kill the Alarm, and many more.
For more information about College Radio Day, visit the website collegeradioday.com.
09/25/12