William Paterson University's Award-winning WP 88.7 (WPSC-FM) Radio Station to be Featured on mtvU's College Radio Countdown – Aired to More Than 750 Campuses Nationally and Nearly 9 Million College Students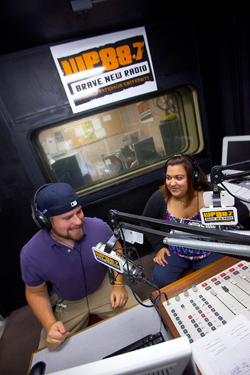 William Paterson University's award-winning radio station WP 88.7 (WPSC - FM), Brave New Radio, will be featured on the nationally broadcast College Radio Countdown show on mtvU, MTV's 24-hour college network. The students of WP 88.7 filmed and produced the introductory segment of the show, which will air nationally on mtvU to more than 750 college campuses and nearly 9 million college students on Tuesday, January 15, 2013 at at 10 a.m. EST. The show on mtvU will also include a top 10 countdown of music videos specially selected by the student staff to reflect the unique sound of the campus station.
"The College Radio Countdown is one of mtvU's most popular shows and the staff at WP 88.7 deserves to be recognized for its energy, creativity and dedication to radio," said Dan Luts, senior producer, mtvU. "We are stoked to offer WP 88.7 the opportunity to host an episode of College Radio Countdown and are impressed with their video picks."
The production of the original introduction video made for the countdown was a collaborative creative effort of the entire WP 88.7 staff and was filmed within the radio station. Eric Dolan, WP 88.7 music director, hosts the segment. "I made it my goal to give as much of a taste of WP 88.7 as possible," says Dolan. "We show viewers the station as well as have a ton of really weird random Brave New Radio shenanigans happening in the background. It really encapsulates the insanity and fun of the WP 88.7 family."
"We're honored to be a part of College Radio Countdown," says Kaitlyn Fischer, a senior and WP 88.7 promotions director. "We've been working very hard these last few years to get where we are today and this is a step in the right direction for us. We're all very excited to be a part of it."

In addition to the hour- long show, mtvU.com will feature WP 88.7 throughout the week of January 15, 2013, on its website, mtvU.com, its Tumblr page and also via its social media outlets.
"This is great exposure for us and WP 88.7 is delighted and honored that mtvU will be featuring us in this nationally broadcast show," says Rob Quicke, general manager of the William Paterson radio station and assistant professor of communication. "College Radio Countdown has already featured some of the best college radio stations in the country, and we are really proud to be selected alongside them."
About College Radio Countdown: For more information about mtvU's College Radio Countdown, you can visit: http://www.mtvu.com/music/college-radio-countdown/.
About WP 88.7 FM: WP 88.7 FM Brave New Radio is William Paterson University's student-run, campus radio station located on the campus in Wayne, NJ. Under the direction of Rob Quicke, assistant professor of communication, WP 88.7 has grown over the last few years to the successful station that it is today. In 2012, WP 88.7 won Best College Radio Station in the Nation (Over 10k Enrollment) at the 72nd Annual IBS Awards. WP 88.7 is also international headquarters for College Radio Day, coordinating the efforts of 588 college radio stations in 30 countries. The campus radio station's staff puts in much time and effort to bring to its listeners the bravest, newest, most awesome local artists and bands the industry has to offer. With 24-hour programming, listeners will be sure to hear something they'll love. From hip hop, to metal, to pop punk, WP 88.7 FM plays it all. For more information about WP 88.7: http://www.gobrave.org
About mtvU: Broadcast to more than 750 college campuses, mtvU reaches upwards of 9 million U.S. college students – making it the largest, most comprehensive television network just for college students. mtvU is dedicated to every aspect of college life, reaching students everywhere they are: on-air, online and on campus. mtvU programs include music videos from emerging artists that can't be seen anywhere else, news, student life features and initiatives that give college students the tools to advance positive social change. mtvU is always on campus, with more than 250 events per year, including exclusive concerts, giveaways, shooting mtvU series and more. For more information about mtvU, and a complete programming schedule, visit http://www.mtvU.com
01/14/13