Jenny Riveros Named the 2013 Outstanding Senior at William Paterson by the University's Alumni Association
Jenny Riveros, who emigrated from Colombia and worked full-time to pay for her education, received the 2013 Outstanding Senior Award.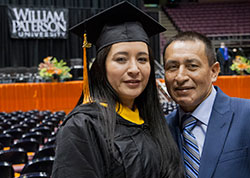 Jenny Riveros with her father, who came from Colombia for the ceremony
Jenny Riveros emigrated from Colombia, worked full-time to pay for her education, completed two internships, attended three national conferences and is the first in her family to earn a college degree. Last week, she was named the 2013 "Outstanding Senior" by the University's Alumni Association.
The award, which has been presented annually since 1962, is the highest honor bestowed by the Alumni Association. The recipient is selected by the association's executive council based on strong involvement in extracurricular activities, demonstrated leadership ability, service to the University, and high academic standing.
"Jenny has demonstrated the William Paterson work ethic and will power at its finest," says Lukas Dean, assistant professor of economics, finance and global business and director of the University's financial planning program. "She's an example of what makes this University great. Jenny has taken the American Dream and made it her own through sheer hard work and determination."
Riveros, who earned a degree in financial planning and finance, immigrated on her own at a young age, and worked forty to sixty hours a week while attending college full-time. She was involved in numerous activities during her time on campus including serving as co-president of the University's chapter of the New Jersey Financial Planning Association. She was an active member of the Student Investment Club, the National Association of Professional Women, and was selected to represent the University at several prestigious financial planning conferences.
Before graduation, she secured a position as a customer service representative with PlanPlus Inc., where her responsibilities include providing financial planning guidance to the company's clients. She is a resident of Elizabeth.
05/20/13