Governor Chris Christie, Secretary of Higher Education Rochelle Hendricks, and University Officials Break Ground for New Academic Building
--Project is funded by the "Building Our Future" Bond Act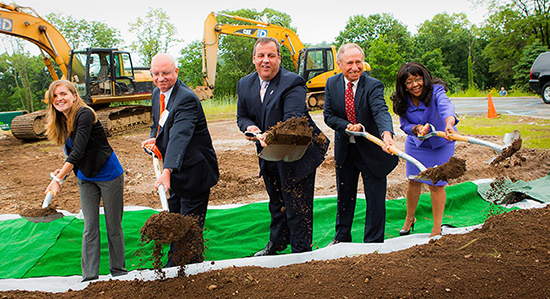 New Jersey Governor Chris Christie and Secretary of Higher Education Rochelle Hendricks joined in breaking ground on a new $40 million academic building on June 10, 2014 at William Paterson University in Wayne. The first step in a long-range plan to modernize facilities in the main academic core of the campus, the $40 million project will be funded in part by $30 million from the "Building Our Future" Bond Act.
"Over the past four years, we have taken historic actions to restructure, strengthen and promote higher education and the long-term economic growth and job creation that it promises for New Jersey," said Governor Christie. "By investing in our institutions of higher learning, we are choosing to invest in our students, in a dynamic and skilled workforce, and in the future of the Garden State."
"We are so honored that Governor Chris Christie and Secretary of Higher Education Rochelle Hendricks are with us today for this important event on our campus. We are grateful for their support of this critical capital project," said Warren Sandmann, William Paterson University's provost and senior vice president for academic affairs. "Building on the William Paterson University's tradition of excellence, this facility will support degree programs on the baccalaureate, master's and doctoral levels. We look forward to the teaching, learning, and research opportunities this new building will provide upon its completion."
The building will be a 78,000-square-foot teaching and research facility housing 16 general-use classrooms that will serve a minimum of 4,000 students per semester. It will also feature specialized classrooms and clinical spaces for the University's well-established and expanding programs in nursing, communication disorders, and public health. Among the specialized clinical spaces will be a greatly expanded Nel Bolger, RN Nursing Laboratory, which will include expanded and updated patient simulation laboratories to provide enhanced clinical training.
In addition, the University's Speech and Hearing Clinic. which provides the community with a full range of diagnostic and therapeutic services for communication disorders, will be located on the building's lower level, with a separate entrance and dedicated parking for clinic clients. The clinic will be a state-of-the-art facility with the latest digital monitoring technology and additional therapy rooms to meet the growing need for the clinic's services. In addition, faculty and students will benefit from dedicated research spaces for communication disorders, nursing, and public health research.
The front of the building will feature a dramatic two-story glass façade. In addition, a terrace on the building's upper level will feature outdoor seating overlooking Speert Garden, as well as an adjacent "green roof" that will be planted with grass. In line with the University's commitment to sustainability, the building will be designed for efficiency, and the University will seek LEED Gold certification from the U.S. Green Building Council.
Completion is scheduled for 2016.
06/10/14