University Students to Excavate Early Iron Age Village in Scotland's Orkney Islands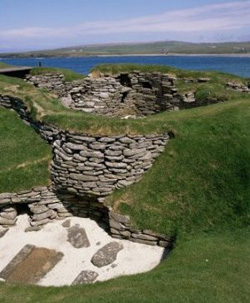 Skara Brae
Six William Paterson University students are headed to the Orkney Islands of Scotland in the North Atlantic where they will participate in the excavation of a historically significant archaeological site as part of an anthropology summer field course from June 20 through July 13.
The field school is part of the "Gateway to the Atlantic Project," a research initiative coordinated by the North Atlantic Biocultural Organisation and the Global Human Ecodynamic Alliance and funded by the National Science Foundation's Arctic Polar Research Fund and other agencies to investigate how people and society reacted and adapted to climatic and environmental change over time
Ruth Maher, Ph.D., an archaeologist and William Paterson adjunct professor of anthropology, will lead the group, which also includes five students from Hunter College and two William Paterson visiting students. The students will be excavating a multi-period site on the Isle of Rousay, one of the Orkney Islands located off the north coast of Scotland.
The William Paterson students participating in the trip are Abigail Baker of Oxford; William Fisher of Ringwood, Greggory Griffin of Wyckoff, Jennifer Hastings of Denville, Nicole Rezzonico of Oakland, and Miranda Van Dunk of Wayne.
"The site has Bronze Age remains, and an Iron Age broch (or roundhouse) that is beginning to come to light and is associated with two Viking/Norse long-houses and a Viking cemetery and boat launch," Maher explains. "The students will participate in the excavation of these structures, which are being eroded by coastal storms and rising sea levels." They will also conduct archaeological surveys around the island, contribute to research at the nearby Neolithic site of Rinyo, and visit other important archaeological sites that range from Skara Brae and the Tomb of the Eagles, which dates to 3500 B.C., to the Italian Chapel put together for Italian POWs during World War II.
Maher, who has been working with archaeological sites in the North Atlantic since 1998, says the trip offers students a first-hand perspective on the significance archaeological research has to key topics concerning human interactions with the landscape and environment. "This gives them an opportunity to see for themselves what climate change and rising sea levels are doing to the environment and the landscape," she says. "They may walk away more aware of the fact that these changes are happening now, not only to our past, but to our future."
Following the field study, many of the students will create posters on issues of sustainability, conservation/preservation of archaeological sites and environmental and climatic impacts on human settlement to be presented at a meeting of the Global Human Ecodynamic Alliance this fall in New York City.
# # #
06/25/12