Cotsakos College of Business to Hold "Sustainability Day" on February 28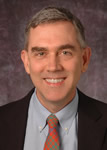 Clinton Andrews
--Lecture by Clinton Andrews, Bloustein School of Planning and Public Policy, Rutgers University, to focus on sustainable consumption
The issue of sustainable consumption—how to minimize the use of natural resources and the byproducts of toxic materials, waste and pollution, that are involved in everyday consumer choices— will be the focus of the William Paterson University Cotsakos College of Business Sustainability Day on Thursday February 28, 2013 from 11:30 a.m. to 12:45 p.m. in the University's 1600 Valley Road Auditorium. The annual event provides an opportunity for students, faculty, and other stakeholders to discuss issues relating to environmental sustainability.
Clinton Andrews, professor and associate dean for planning and new initiatives at the Bloustein School of Planning and Public Policy, Rutgers University, will be the guest speaker. Andrews will examine the potential and limits of consumer behavior as a force to move the United States economy in a more sustainable direction.
"Although the concept of sustainable consumption has gained familiarity, many in business and public policy do not fully understand its implications," says Rajiv Kashyap, interim dean of the Cotsakos College of Business. "This event will provide insight into this important issue."
For additional information, call the William Paterson University Cotsakos College of Business at 973-720-2964.
02/21/13