William Paterson University Presents 20th Annual Summer Jazz Room from July 22 To 26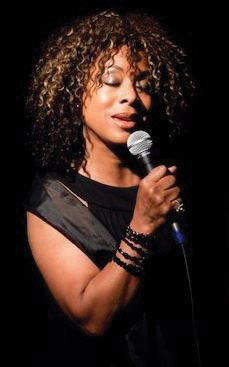 Eve Cornelious
--Drummer Dennis Mackrel is featured with the Summer Jazz Workshop Quintet on July 22; Pianist Rossano Sportiello with bassist/vocalist Nicki Parrott on July 23; Vocalist Eve Cornelious with the William Paterson University Summer Jazz Orchestra led by Steve Marcone on July 24; Drummer Duduka Da Fonseca's Trio with guest vocalist Maucha Adnet on July 25; and Jimmy Heath and the Heath Brothers Quartet on July 26

Drummer Dennis Mackrel joins the Summer Jazz Workshop Quintet to open William Paterson University's 20th annual Summer Jazz Week from July 22 to 26 in the Shea Center for Performing Arts on the campus in Wayne. Also featured during the weeklong concert series are pianist Rossano Sportiello with bassist/vocalist Nicki Parrott, vocalist Eve Cornelious with the William Paterson University Summer Jazz Orchestra led by Steve Marcone, drummer Duduka Da Fonseca and Jimmy Heath with the Heath Brothers Quartet.

Summer Jazz Week features concerts every evening at 7:30 p.m. A $40 pass for the entire week may be purchased through Thursday, July 19 or single tickets may be purchased for $10.

Summer Jazz Week, which has drawn thousands of jazz fans to the University's campus during the past 19 summers, is designed to make jazz more accessible to the community. William Paterson University has been a flagship of jazz education for 40 years and is recognized internationally for its Jazz Studies Program and nationally acclaimed Jazz Room Series of concerts each fall and spring.

The festival opens on Monday, July 22, with Dennis Mackrel joining the Summer Jazz Workshop Quintet. Mackrel is a drummer and arranger whose career has intersected at several important points with the legendary Count Basie Orchestra. He was the last drummer hired by Basie and he continued when the band. More recently, he has taken leadership of the Basie band. Mackrel will join William Paterson jazz faculty members Tim Newman, trombone, David Demsey, saxophone, Jim McNeely, pianist and Marcus McLaurine, bass.
Tuesday, July 23, pianist Rossano Sportiello brings his international flavor to the Shea Center stage along with Nicki Parrott. Sportiello's style recalls Oscar Peterson and Earl Hines. Among his award-winning CDs are Piano On My Mind and Heart and Soul, as well as three classically inspired recordings: Chopin in Jazz, Schubert in Jazz and Listz in Jazz. A regular collaborator, the Australian bassist and vocalist Nicki Parrott, with whom he as recorded two CDs, Do It Again and People Will Say We're In Love, will join him.

The mid-week performance on Wednesday, July 25 showcases Eve Cornelious with the William Paterson University Summer Jazz Orchestra led by Steve Marcone, William Paterson professor of music. Cornelious, a Newark native, discovered her voice at an early age and was noticed when she won the prestigious BET Jazz Discover Award. As a songwriter, she co-wrote five of the selections that appear on Nick Vintskevitch's CD Vive L'Amour. The Summer Jazz Orchestra will feature top students from William Paterson University's Jazz Studies Program.

Brazilian drummer and percussionist Duduka Da Fonseca will bring his own trio to the Shea Stage on Thursday, July 25. A Rio de Janeiro native, his own birth coincided with the advent of the Brasilian bossa nova. His career brings together decades as a major player in the Brazilian music community and his jazz sensibility to create a true fusion of the Brazilian traditions and American jazz. His ensemble includes pianist Helio Alves, bassist Hans Glauswig and special guest vocalist Maucha Adnet.

The festival will close with a performance by the Heath Brothers Quartet on Friday, July 26. Jimmy Heath, 2013 Summer Jazz Artist in Residence, saxophonist, composer, arranger and educator, is a National Endowment for the Arts Jazz Master. In his 50-year career, Heath has performed with every leading jazz musician and he continues to perform, compose, record, and teach. Heath has performed on more than100 record albums and worked as a professor of music at the Aaron Copland School of Music at Queens College for eleven years. He appears with Albert "Tootie" Heath on drums, David Wong on bass, and pianist Jeb Patton.

William Paterson's 20th Annual Summer Jazz Week is funded, in part, by grants from the New Jersey State Council on the Arts/Department of State, and the Geraldine R. Dodge Foundation.
For more information, contact the Shea Center Box Office at 973-720-2371 or visit www.wplive.org.
07/15/13