Story of Honest Act by Four Football Players Gains National Attention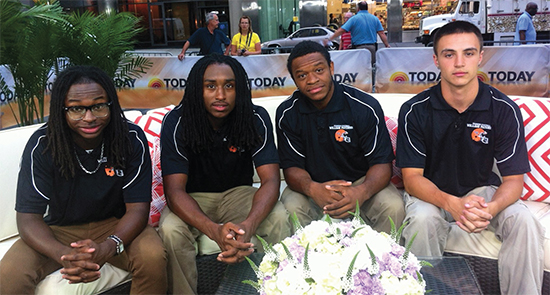 Pioneers Thomas James (left to right), Kell'E Gallimore, Jelani Bruce, and Anthony Biondi on the set of The Today Show on August 28
By Heather Brocious
Five dollars and eighty cents. That, and a simple honest act caught on camera, were enough to thrust four William Paterson football student-athletes into the media spotlight, sparking a national conversation about character, integrity, and perceptions.
Freshman Kell'E Gallimore of Plainfield and Thomas James of East Orange needed to pick up some batteries and an auxiliary cable early one Sunday evening in late August. Short on time between preseason practice sessions, they hopped in a car with classmates Anthony Biondi of Wayne and Jelani Bruce of East Orange and headed to a Wayne strip mall.
The drugstore they visited lacked one of the items they needed, but they thought the Buddy's Small Lots next door might offer a solution. The door was unlocked and half the lights were on, so they entered and looked for the items, all the while searching for an employee. With time running out before they needed to return to campus and no one in sight, Gallimore and James decided to pay, showing the cash to the security camera before leaving the bills and a handful of change to cover the sales tax on the counter. They popped back into the drugstore to tell the employees what they had done, and quickly returned to William Paterson.
End of story, right? Not quite. It was just the beginning.
Buddy's was, in fact, closed for the day, but there was an error that allowed the front door to remain unlocked. When the store's management was told of the situation, they reviewed the footage, fully expecting the worst. Instead, they saw an example of the best in people.
Eager to find, and thank, the four young men on the video, Buddy's forwarded it to News 12 New Jersey. By Monday evening, James's brother was calling to tell him he saw him on television.
"My first reaction was that I thought we were in trouble," Bruce jokes. "Why did they want us to
go back to the store? I thought we were all going to jail! I just didn't know what to think."
They certainly weren't in trouble. Tuesday morning, they were personally thanked by the manager and spending their rewards of $50 gift cards. That afternoon, they were interviewed by New York and New Jersey TV affiliates, local papers, and national online news sources. By Tuesday evening, they were each hurriedly packing an overnight bag for a late-night trip to Manhattan and an appearance on the next morning's Today Show.
"How did it go, in less than twenty-four hours, that it just blew up like that?" Gallimore says. "They just said we're sending a car tonight, we're going to put you in a hotel, and you're going to be on (Today) tomorrow. It just happened so fast."
"I talked to my parents and told them we were on the way to the hotel and we were going to be on the Today Show the next morning," James recalls. "It was pretty exciting, and I knew that they would be watching. They asked me how my life was going to change and I said I love it so far."
All told, this feel-good story was shared by nearly 750 media outlets nationwide. Hundreds upon hundreds of emails, voicemails, tweets, and Facebook messages flooded in to Biondi, Bruce, Gallimore, James, the University administration, and head football coach Jerry Flora. Some were from proud members of the William Paterson community, but the vast majority were from complete strangers, people not associated with the University or even the state of New Jersey—parents, educators, active and retired military, coaches from youth programs all the way up to the professional ranks, business men and women. It was a cross-section of average American citizens who were reaching out to offer their congratulations and appreciation. Most hoped it would serve as an example of the importance of character, honesty, and integrity, a story many of them planned to share with the young people in their lives.
"This one lady tweeted to me," shares Biondi. "'I'm the mother of a twenty-five-year-old. I'm
very proud of you guys and your parents #ourfuture. When you live your life with integrity and honesty God blesses you tenfold. My boys will know about you and your deed #rolemodels.' Just seeing that put a smile on my face because people that I don't even know are saying something like that to me."
"(The attention) makes me feel good," Gallimore states. "Not only are you making a name for yourself and where you're from, but also the school you're attending. If it wasn't for the coaches recruiting us and William Paterson accepting us and allowing us to be here, we wouldn't have even been in this situation, so we're grateful for that."
One reason why this story may have resonated so strongly is that the news cycle can often be overwhelmed by negativity. One affirmation of virtue and morals, shared with the world, can serve as a welcome, momentary distraction from the daily deluge of war, disaster, and human suffering.
Another reason the story has had traction could be that it stood in stark contrast to a number of unfortunate existing perceptions and stereotypes. These four people —young, male, athletes, three of them African American —proved people should be judged by the content of their character, something most clearly displayed by actions they believe will be unrecognized and anonymous.
"We don't want to be judged by how we look, by the color of our skin or the fact that we're athletes," Bruce says. "We just want to be judged by what we do."
"Most of the time when you see three black kids and one white kid, especially in a situation like that, people assume something bad is going to happen," Gallimore explains. "But they should think differently of it. Not everyone is looking to do harm. I can't steal. I can't be with anyone who would steal. Maybe because of this (story), that won't be the assumption."
The whirlwind of attention left Biondi, Bruce, Gallimore, and James with short-term celebrity status, but they know that notoriety comes with long-term responsibility.
"We know we can't do the wrong thing," Gallimore says. "We can't get in an argument or look at someone sideways because people expect more out of us. We know that we're role models now."
As role models, the four want their story to serve as an example, if not a call to action.
"I hope it shows other kids that you're always going to be watched, even if you think no one is around, so always do the right thing because, eventually, all the good you do will come back and benefit you," Biondi adds.
"We all make mistakes," says James. "We're not perfect. We're not celebrities. We're just four kids who did the right thing. What we did, it shows our character, and that goes against the stereotype. Sometimes, you can't judge a person by what you see and hear about them. Don't let one person's action affect society. We are all part of society. Once everyone finds out that a person does something positive, we all should follow in those same footsteps. You can't just look at a couple of people and think 'that's great, they did something good.' Everyone should do something good."
11/22/13