Count Basie Orchestra to Perform in Jazz Room Series at William Paterson University on April 6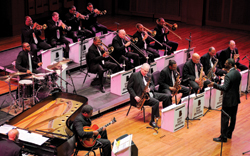 Count Basie Orchestra
The Count Basie Orchestra will perform as part of the spring 2013 Jazz Room Series at William Paterson University in Wayne on Saturday, April 6, 2013, at 8 p.m. in the in the Shea Center for Performing Arts on campus. The concert series is currently celebrating its 35th anniversary season.
Prior to the concert, the Count Basie Orchestra will be the guest for "Sittin' In," an informal discussion about jazz, at 7 p.m. at the Shea Center. Admission is free to all Jazz Room ticket holders. Tickets are available at the Shea Center Box Office in advance at 973.720.2371 or wp-presents.org or on the day of the performance at $15 general admission, $12 senior citizens and William Paterson community, and $8 for non-William Paterson students. William Paterson students are admitted free with show of ID.
William "Count" Basie, a native of Red Bank, New Jersey, organized the Count Basie Orchestra in 1935 and created the big band phenomenon that is still going strong in 2013. The legendary trumpeter/arranger Thad Jones, who served as William Paterson University's first director of jazz studies program from 1972 to 1979, was a member of the Count Basie Orchestra from 1954 to 1963.
As part of the concert, there will be a special segment devoted to the music written by Thad jones for the Basie Orchestra. Although Jones wrote nearly 25 arrangements for the Basie band during his tenure in their trumpet section, many of them were considered to be lost and have not been performed by the band for decades. However, scores for several of those lost arrangements are part of the Thad Jones Archive, housed on the William Paterson campus. Through the cooperative efforts of William Paterson jazz faculty and members of the Basie Orchestra, some of these pieces will "come home" to the band's library during the concert, and will be performed live by the Basie band.
Since Basie's passing in 1984, Thad Jones, Frank Foster, Grover Mitchell, Bill Hughes, and now Dennis Mackrel have led the Count Basie Orchestra and maintained it as one of the elite performing organizations in jazz. The orchestra has won 17 Grammy Awards and 20 Down Beat and JazzTimes polls, more than any other jazz big band. The contemporary Count Basie Orchestra is comprised of 19 performers who are all committed to upholding and advancing this American institution.
Launched in 1978, William Paterson University's Jazz Room Series is one of the largest and most prestigious college-sponsored jazz events in the country. Performers include renowned professionals who encompass the complete spectrum of jazz, as well as William Paterson's own student ensembles. The series has won numerous grants from the New Jersey State Council on the Arts for its innovative programming.
04/01/13