Alum's Coffee House Brews Up Memories of Orwell's "War of the Worlds"
Franc Gambatese '87 has been fascinated with Orson Welles' radio adaptation of H.G. Wells' The War of the Worlds all of his life.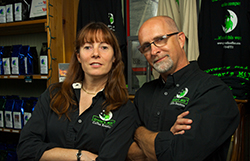 Mickey DeFranco and Franc Gambatese '87
Franc Gambatese '87 says his fascination with Orson Welles' Mercury Theatre Company radio adaptation of H.G. Wells' classic The War of the Worlds has followed him throughout life.
Gambatese and his wife, Mickey DeFranco, own Grovers Mill Coffee House in Grovers Mill, West Windsor Township, New Jersey, the site of the story's famous Martian invasion. Their Martian-themed coffee house is gearing up for the 75th anniversary of the broadcast that aired on Halloween eve 1938. They will host rebroadcasting events, have lectures, and sell commemorative coffee cups and T-shirts.
"My dad really talked it up and told me how the whole thing happened," he says.
As a kid, Gambatese used his newspaper route money to buy War of the Worlds comic books, which he still has and displays in his coffee shop. He was also fascinated by the 1975 television movie, The Night That Panicked America, a dramatization of the October 30 mass panic. Some listeners who randomly tuned in to the radio broadcast were fooled because the broadcast sounded so believable.
"They mentioned several times that it was fictitious, but if you were tuning in the middle, you didn't know what the heck was going on. And people just got carried away."
As a communication major at William Paterson, the event was the focus of one of his classes — how it had changed broadcasting. Gambatese wrote his senior thesis on "How the War of the Worlds Radio Broadcast Affected American Culture."
Gambatese and his wife eventually moved to West Windsor, and it wasn't until they moved in that he realized, "Holy cow, Grovers Mill is part of the town. This thing has been following me!"
"Now we're the keepers of the flame," he says. "We get people coming to Grovers Mill from all over the world, especially at this time of year." They bring him memorabilia to add to his collection, from an old Victrola radio to a complaint signed by the city manager of Trenton, demanding an investigation into the broadcast. Gambatese, a former West Windsor council member, is now regarded as the local historian on the subject.
Gambatese and his wife have been coffee roasters and wholesalers for the past ten years, and opened up the coffee house about five years ago. In July, they opened up a second Grovers Mill Coffee House in South Brunswick, located inside the public library. Having the second shop gives them more room to display all their War of the Worlds memorabilia.
For them, it's a family affair. Both daughters, now in college, help out. Gambatese's father-in-law, 83, helps too.
"It's been a really fun experience," he says. "I hope I'm around when we celebrate the 100th anniversary of the radio broadcast."
10/24/13